Foodie Newz
Delicious Delectables – Taste of Del Ray Delivers!
Best Bites Compete in Del Ray
Alexandria, VA  Delicious Delectables – Taste of Del Ray Delivers!
If the VIP Taste of Del Ray is any indication, you are in for fabulous foray into the world of Del Ray eateries. The VIP event held June 2 at Jack Taylor's Alexandria Toyota proves that Del Ray is the place to enjoy great food. Some featured special items while others served plates you can find on their menu. Each item was judged by a trio of hand-selected judges while guests were asked to vote for the People's Choice Award.
I took a leisurely stroll around to scope out the offerings and knew I would not go home hungry. The hardest part was deciding where to start. Hops & Shine offered a Bavarian Pretzel bite with a choice of dipping sauces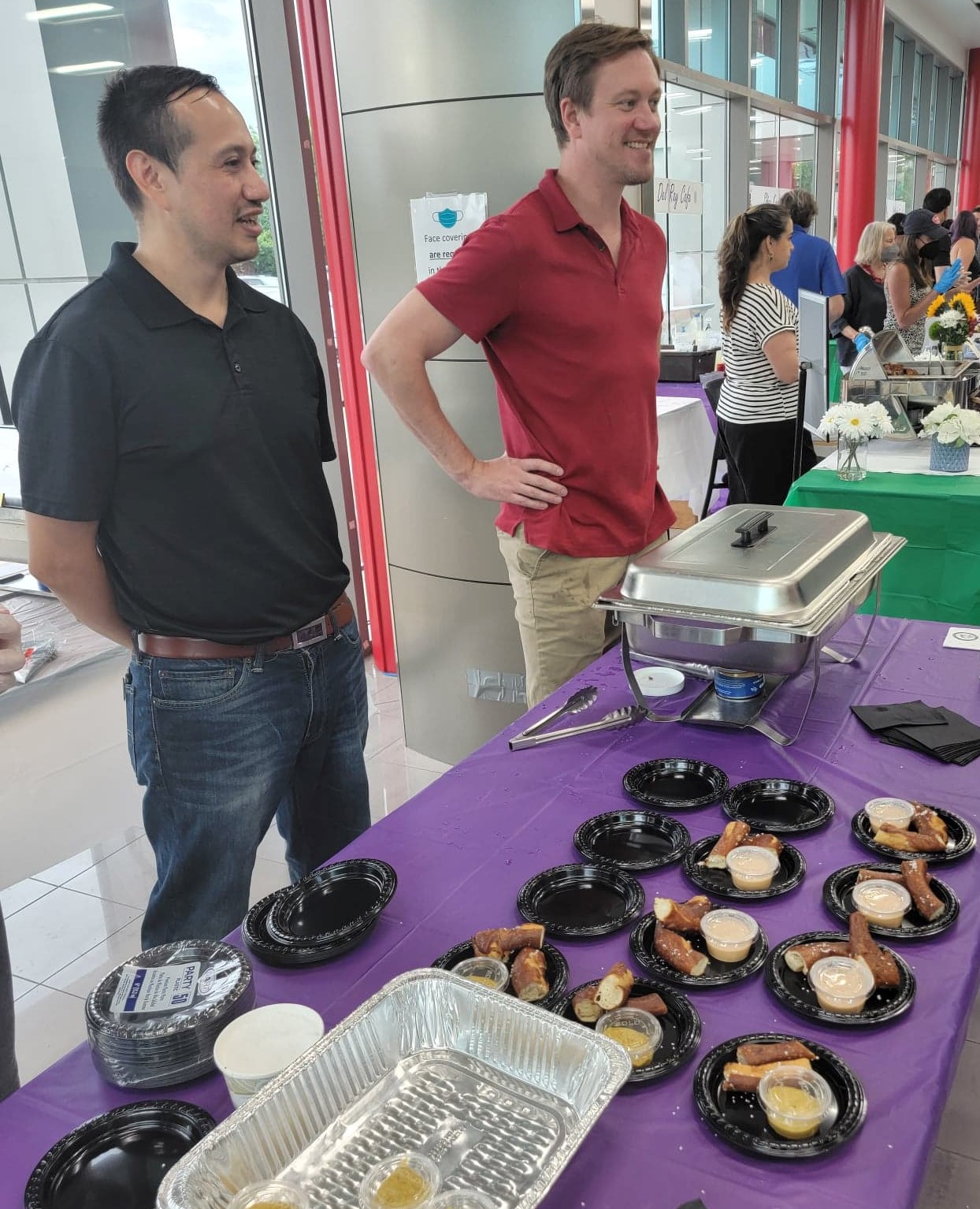 featuring beer cheese or spicy mustard. Opt for both if you can because it is hard to choose – both pair perfectly. What a tasty first bite. Moving on to the Mojo Pork Mac and Cheese topped with black beans and fried onions from Junction Bakery & Bistro was a fabulous combination of spice and cheese. You gotta love mac n' cheese, especially when it's topped with Mojo piggy.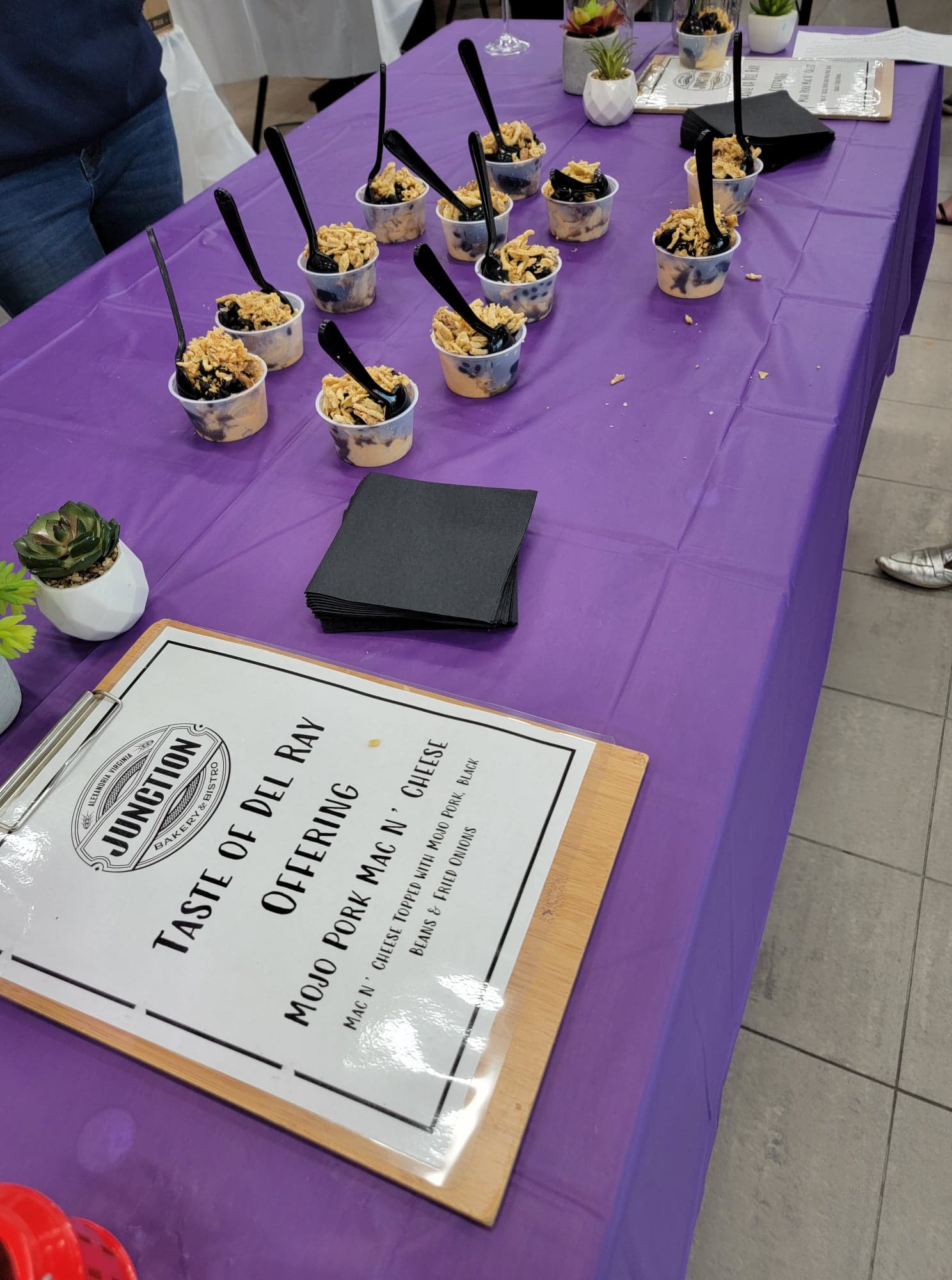 Taqueria Poblano knows how to make birria. The Crispy Birria taco had everything you would want including the gravy. It was definitely a party for the taste buds. The crunchy taco filled with the buttery sauce beef and topped with cheese, onions, and more was very close to perfect!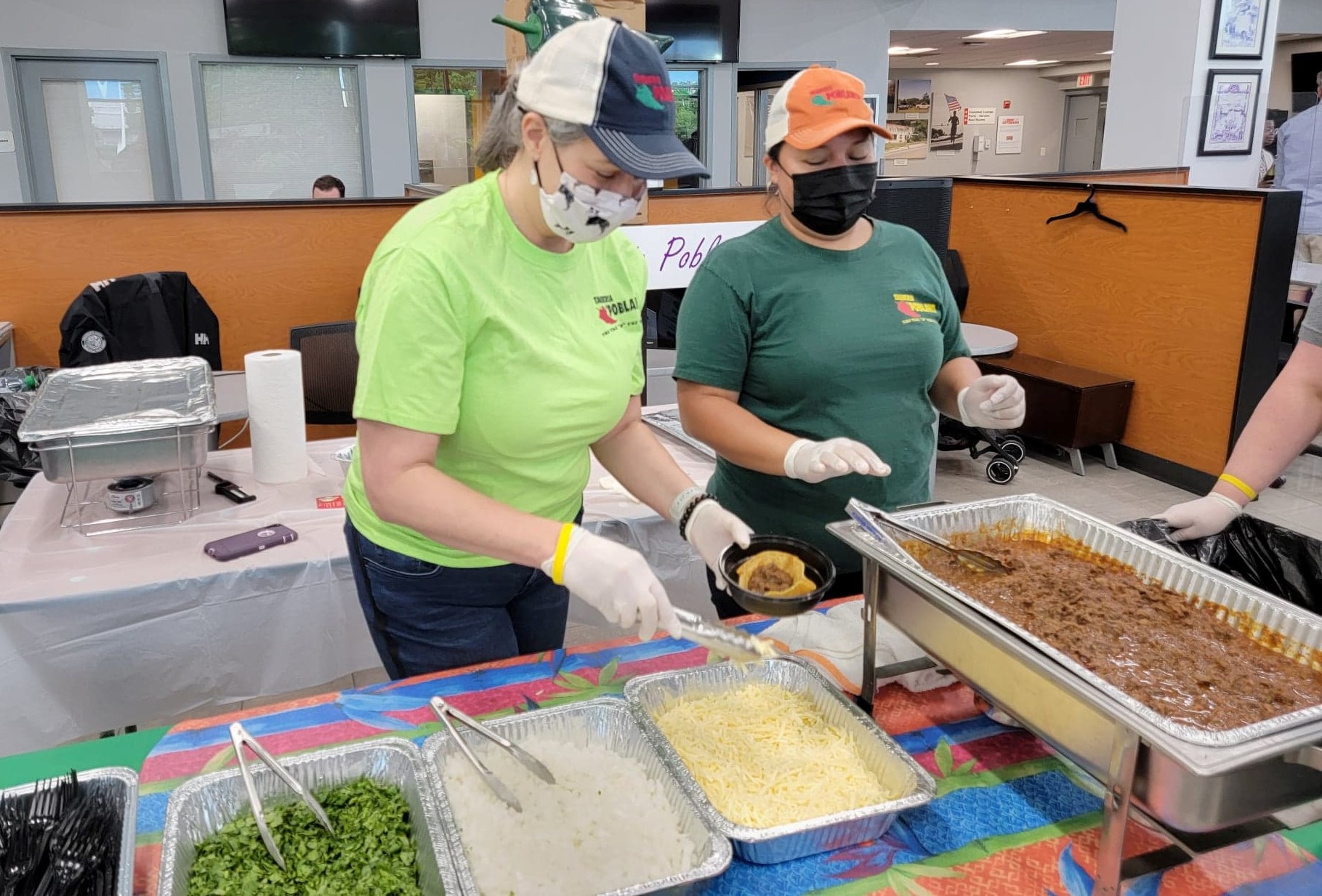 Del Ray Pizza stepped up with Fried Green Tomatoes and Grilled Shrimp was topped with pimento cheese and remoulade. Oh yes, what a bite that was. The topping had just the right amount of gooey goodness and the tomato had a great amount of crunchy crust.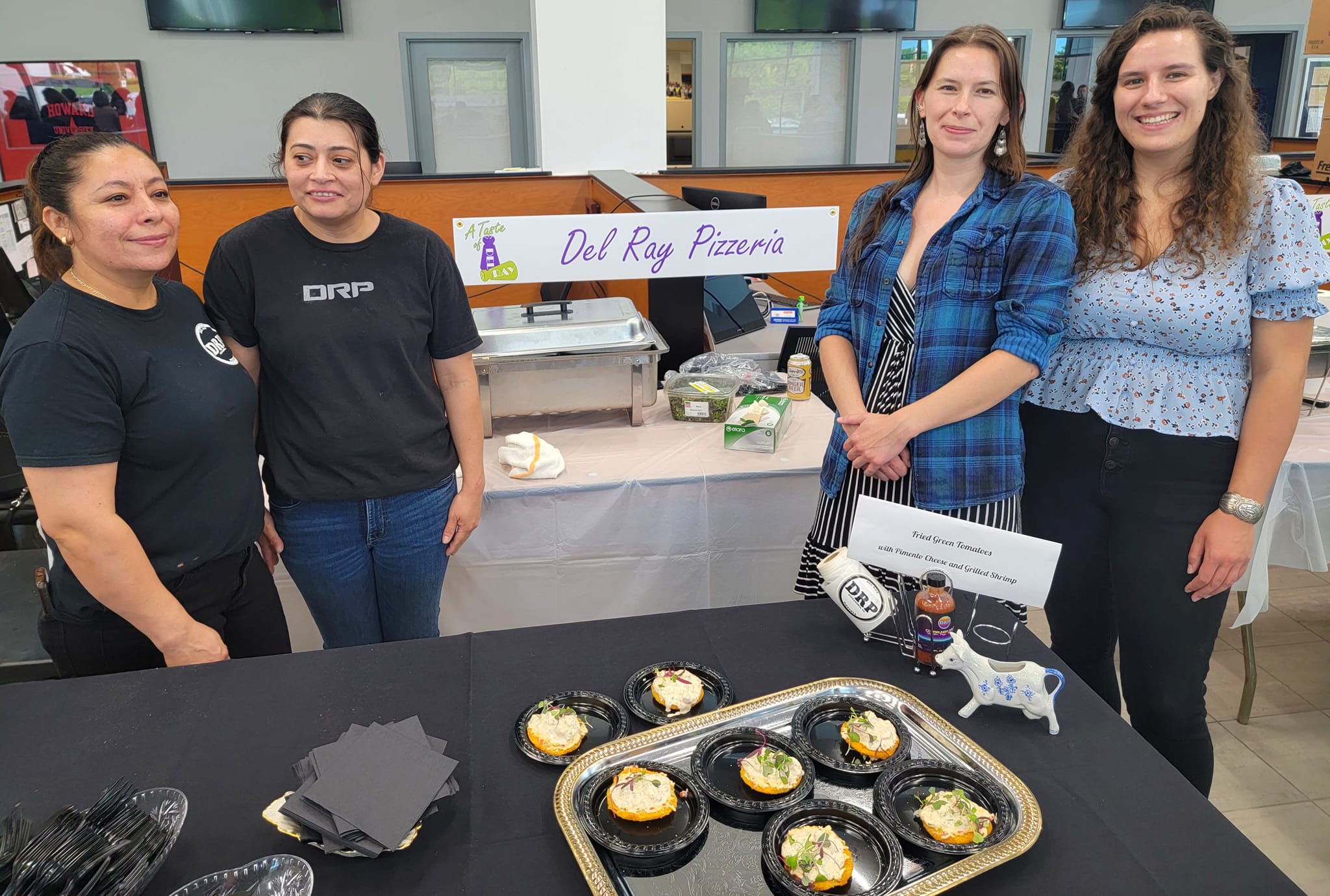 Speaking of delicious pork, Pork Barrell BBQ served a heaping portion of their BBQ Nachos. They served up a layer of taco chips covered in pulled pork, their monster sauce, pico de gallo, pickled jalapenos, creamy cole slaw, and finished with sweet BBQ sauce. Every bite yielded a new combination of flavorfulness. It was at least a three-napkin delight.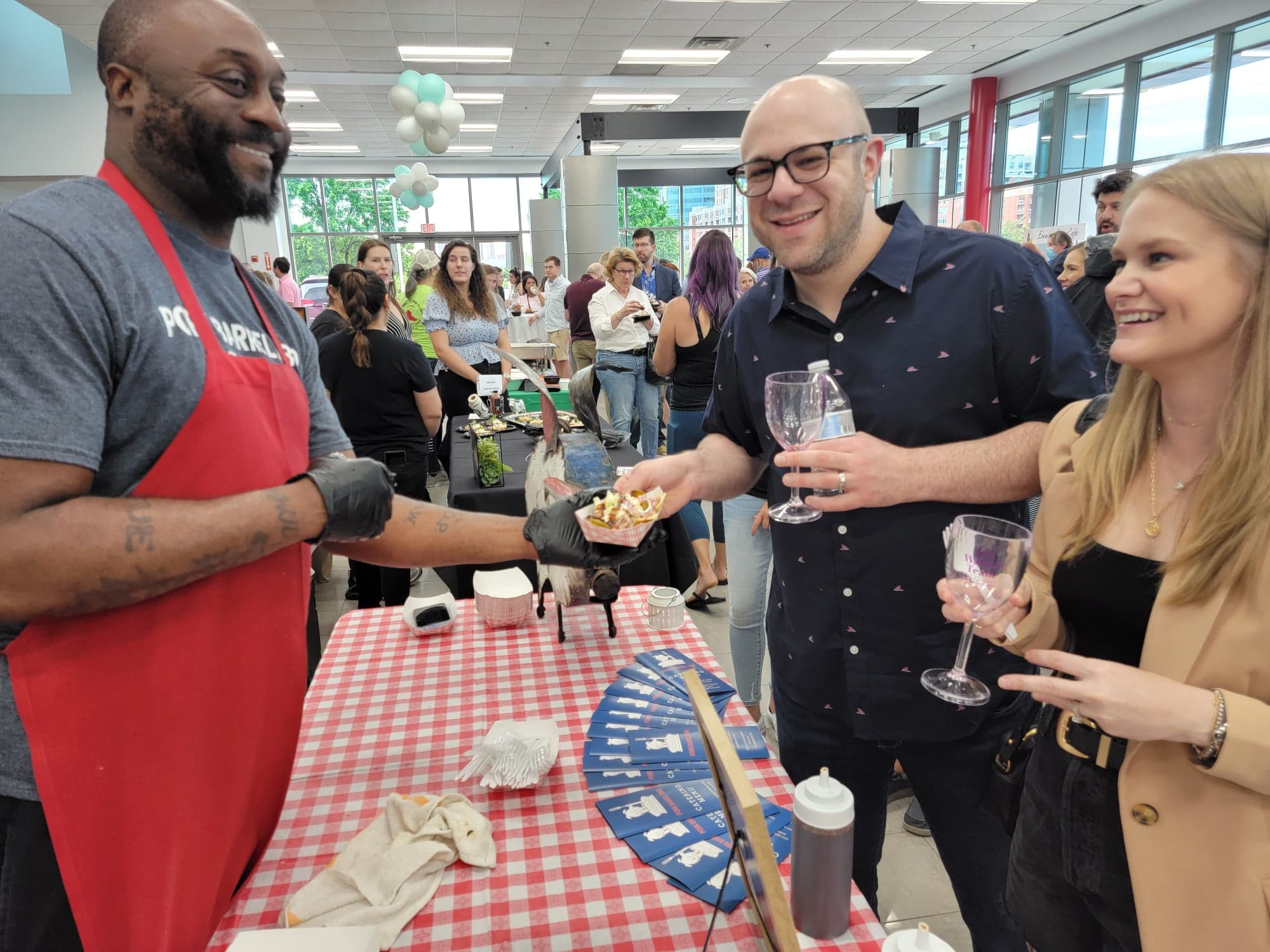 Bella Napoli offered raviolis – one filled with meat topped with a red sauce and the other filled with lobster, covered with a white sauce. Rather than choose, get both. The flavors of ravioli paired beautifully with the sauces. What a treat.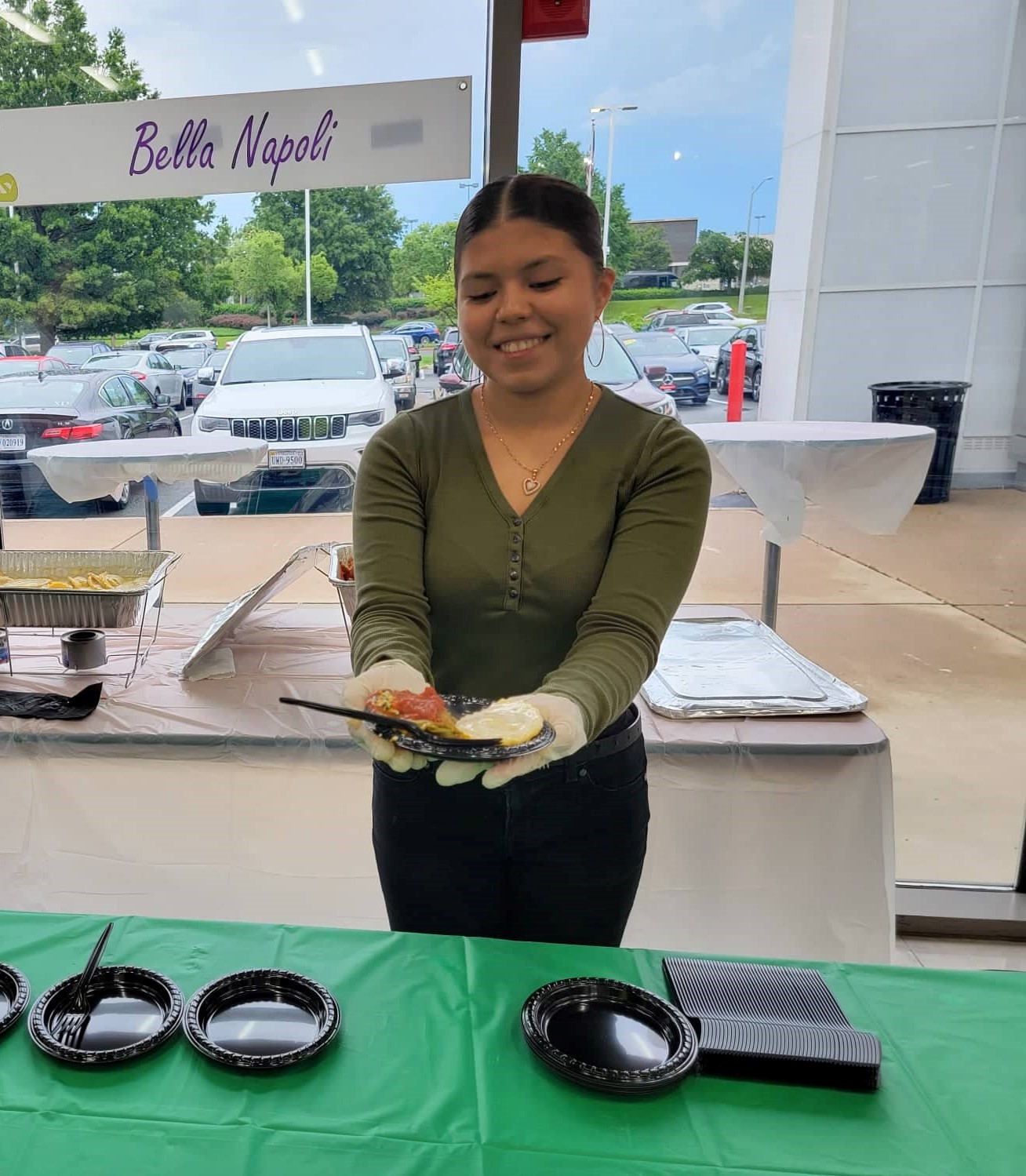 Not to be outdone, Lena's Wood Fired Pizza & Tap featured their Seven-Layer Lasagna. Their lasagna is one of those not to be missed bites. The layers of tender pasta, bechamel, meat sauce, and cheese could inspire an opera. And, you can get it at the restaurant too.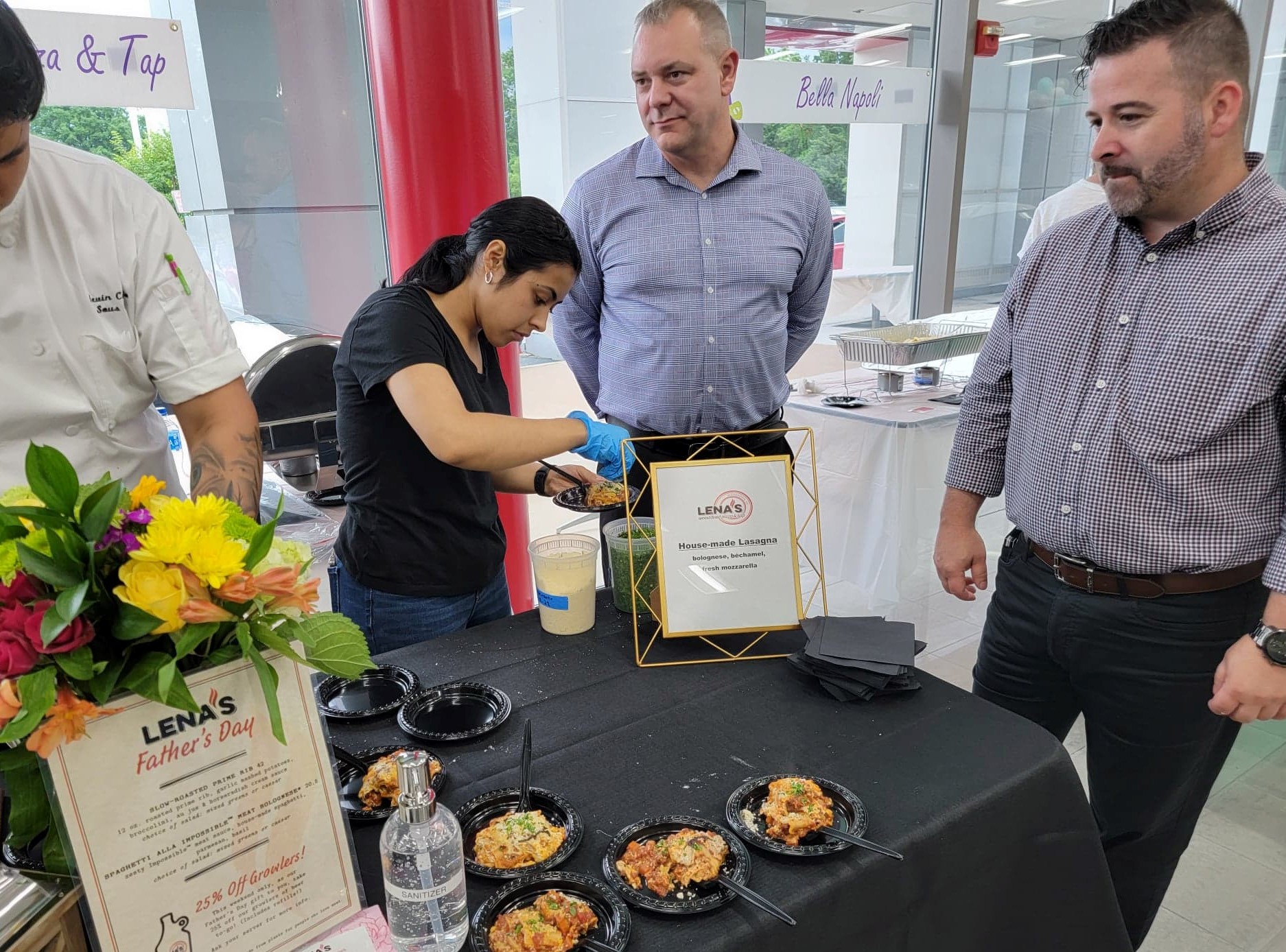 Northside 10 brought two tastes to try. Fried Green Tomato Sliders were served on a brioche bun and topped with baby spinach and remoulade. Smoked Gouda Mac & Cheese was served on the side. What a delight to take a bite of slider and follow with a bite of the mac. It was a tie as to which was better.
Matt and friends from Matt and Tony's All Day Kitchen featured Corn Flake Crusted French Toast garnished with fresh fruit and topped with hot pecan syrup. Don't bother with a fork, just pick it up with your fingers! That gives you an excuse to lick your fingers to capture every morsel.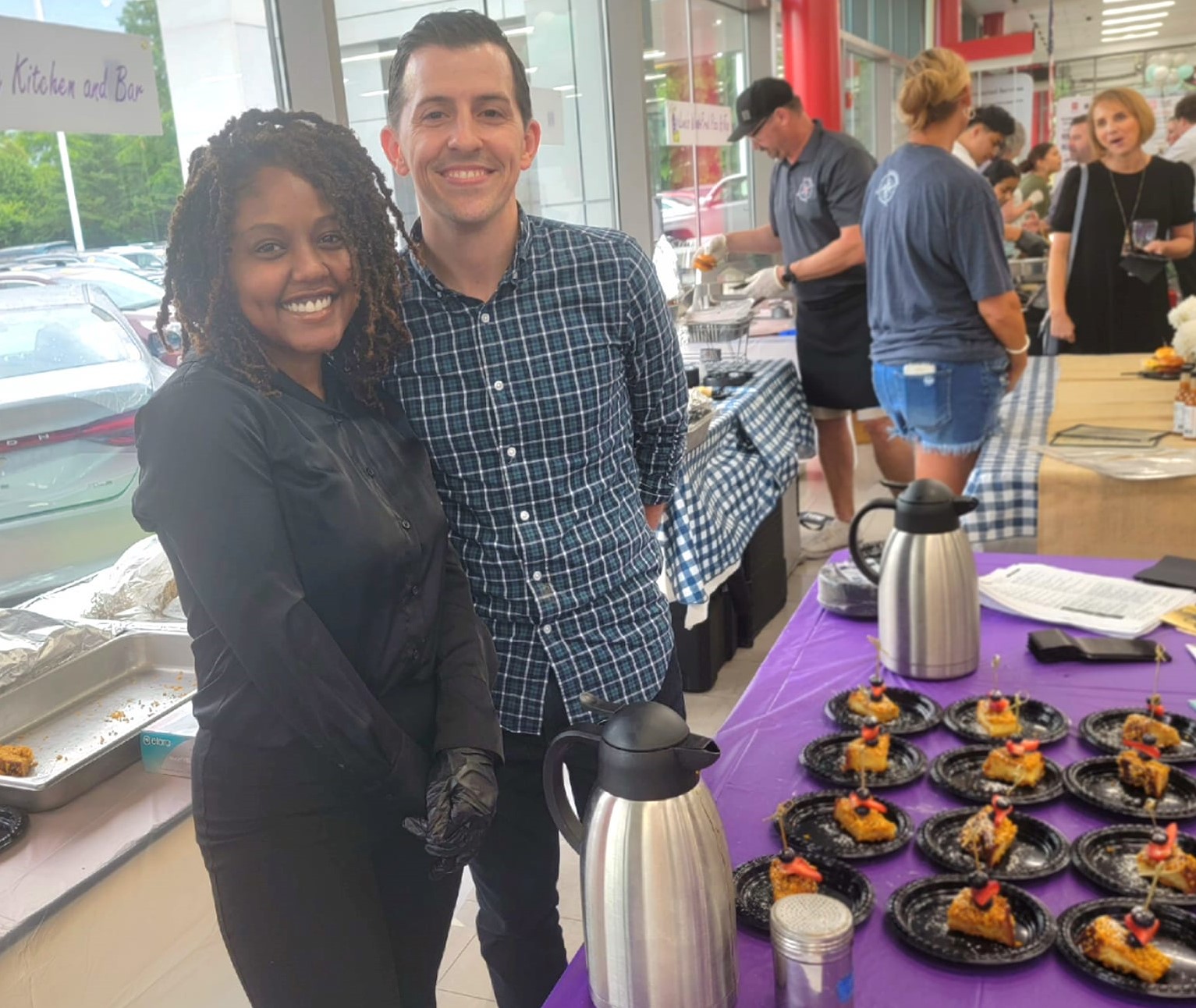 Probably the most beautiful plate of the entire evening was the Avocado Banana Beets Chaat. Spice Kraft maxed out their table with carved fruits. Their vegan bite was a round of dried banana filled with avocado seasoned with traditional Indian spices and topped with a 'stick' of dried banana with beet and garnished with a yogurt tamarind sauce, baby greens, and an edible flower. It was an elegant presentation of sweet, salt, crisp, and soft that begged to be eaten.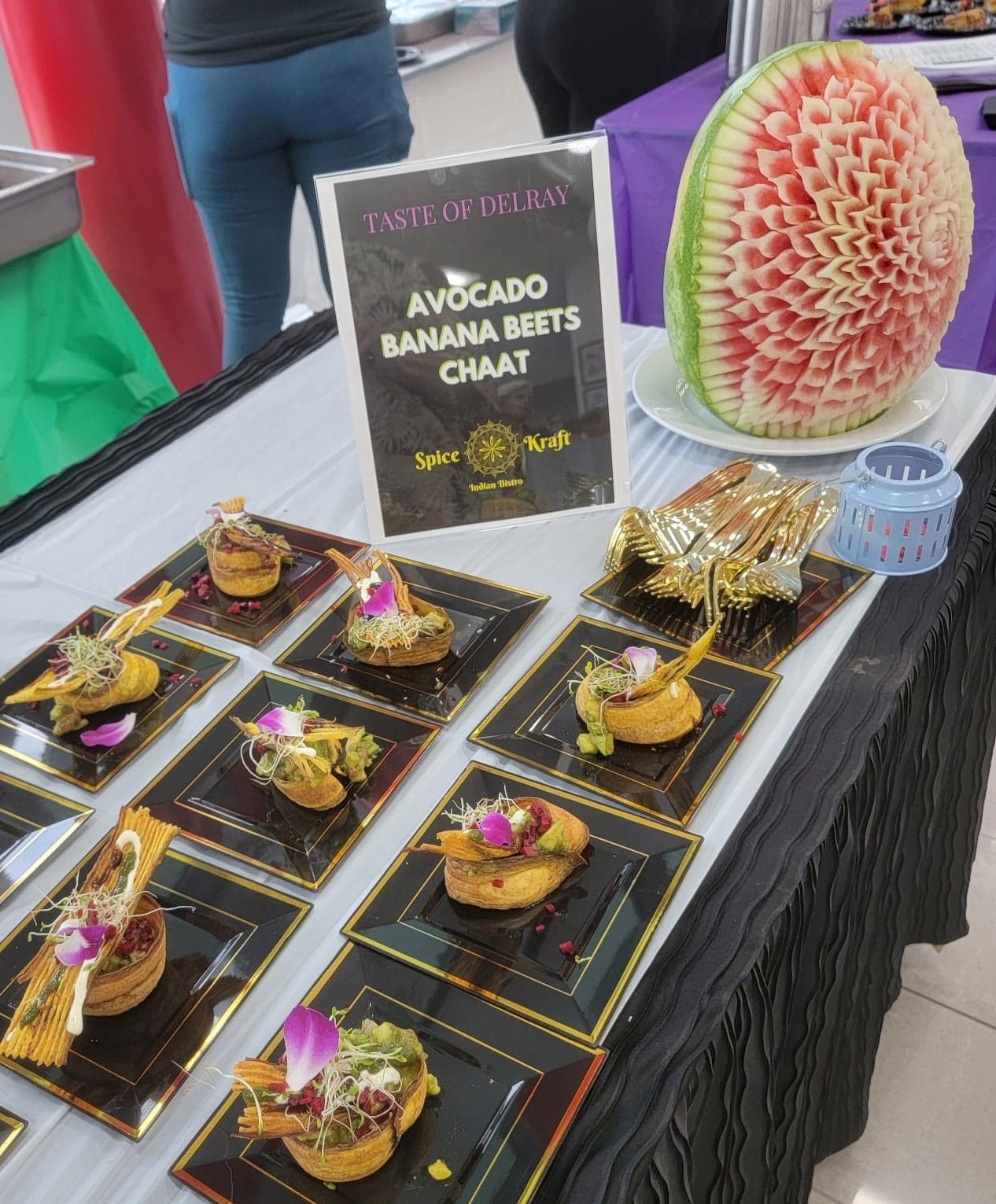 Del Ray Café's table was hosted by Sandrine Janowsky with her parents, Laurent Janowsky and Margaret Ticer Janowsky. They were busy serving chouquettes with two sauces – creamy chocolate and fruity raspberry and a cold avocado gazpacho. These were terrible choices. Dip the chouquettes into chocolate or raspberry. Drink the soup first or eat the choquettes. All were delish!  And, an extra bonus were the doggy treats to bring home.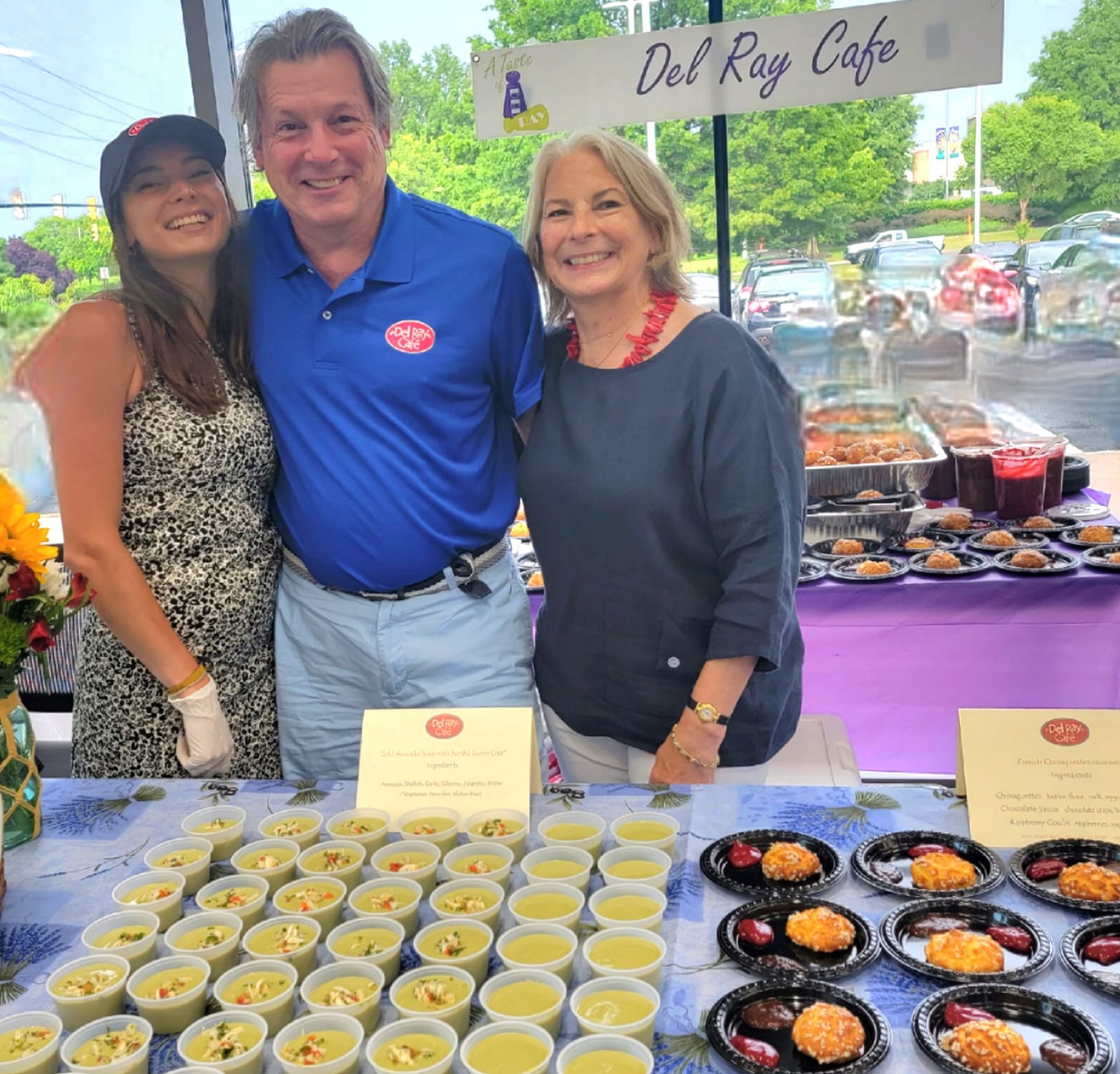 Evening Star made it simple, as in simply delicious. BBQ Pork Wings. These porky bites were the pork version of burnt ends – loaded with flavor and topped with a savory sweet sauce. Did someone say seconds?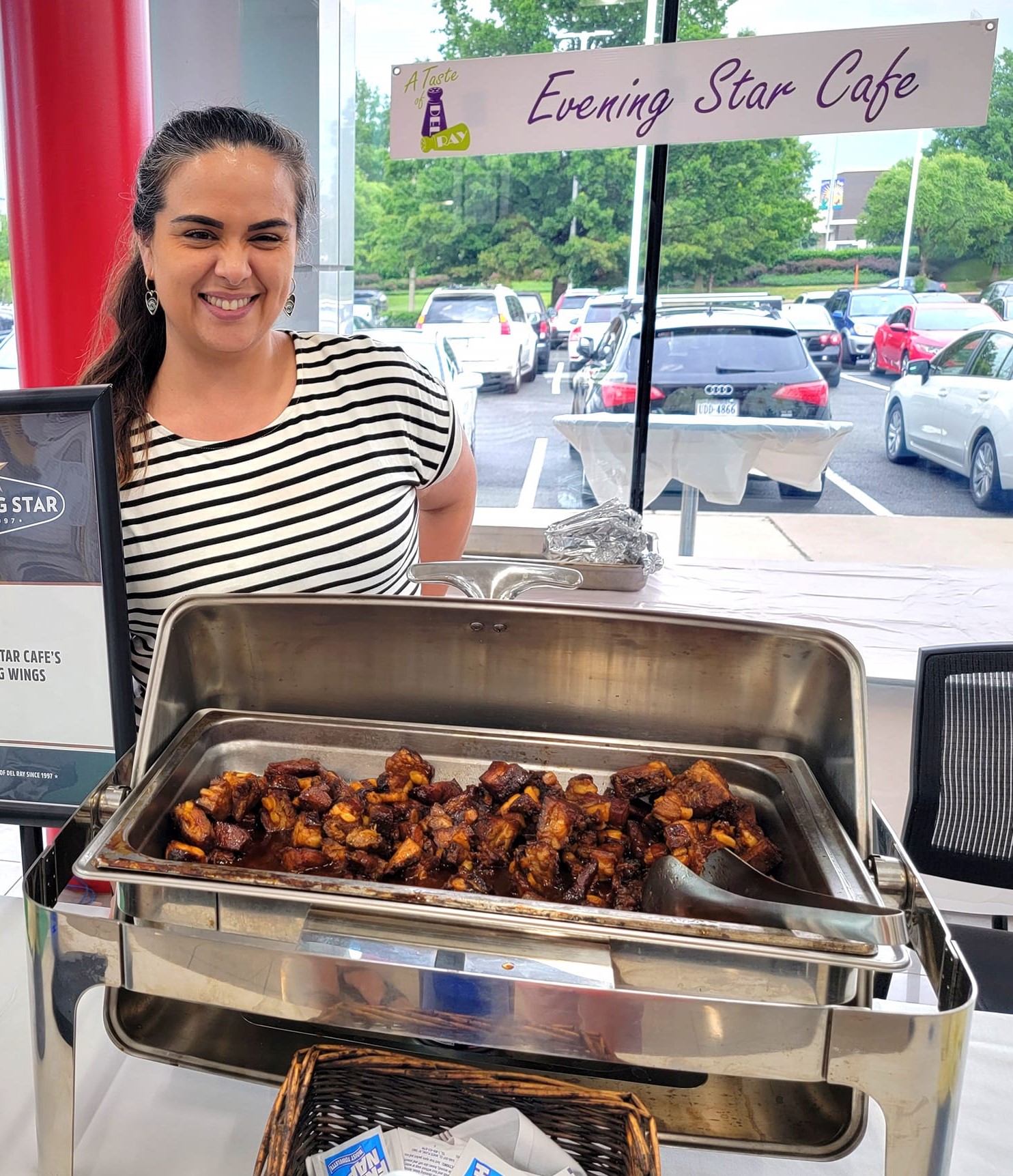 If you love cheese, Cheesetique was the place to be. They offered amazing Mac & Cheese Bites. Their mac & cheese is known around the area for their combination of creamy cheeses and noodles. There was no disappointment here.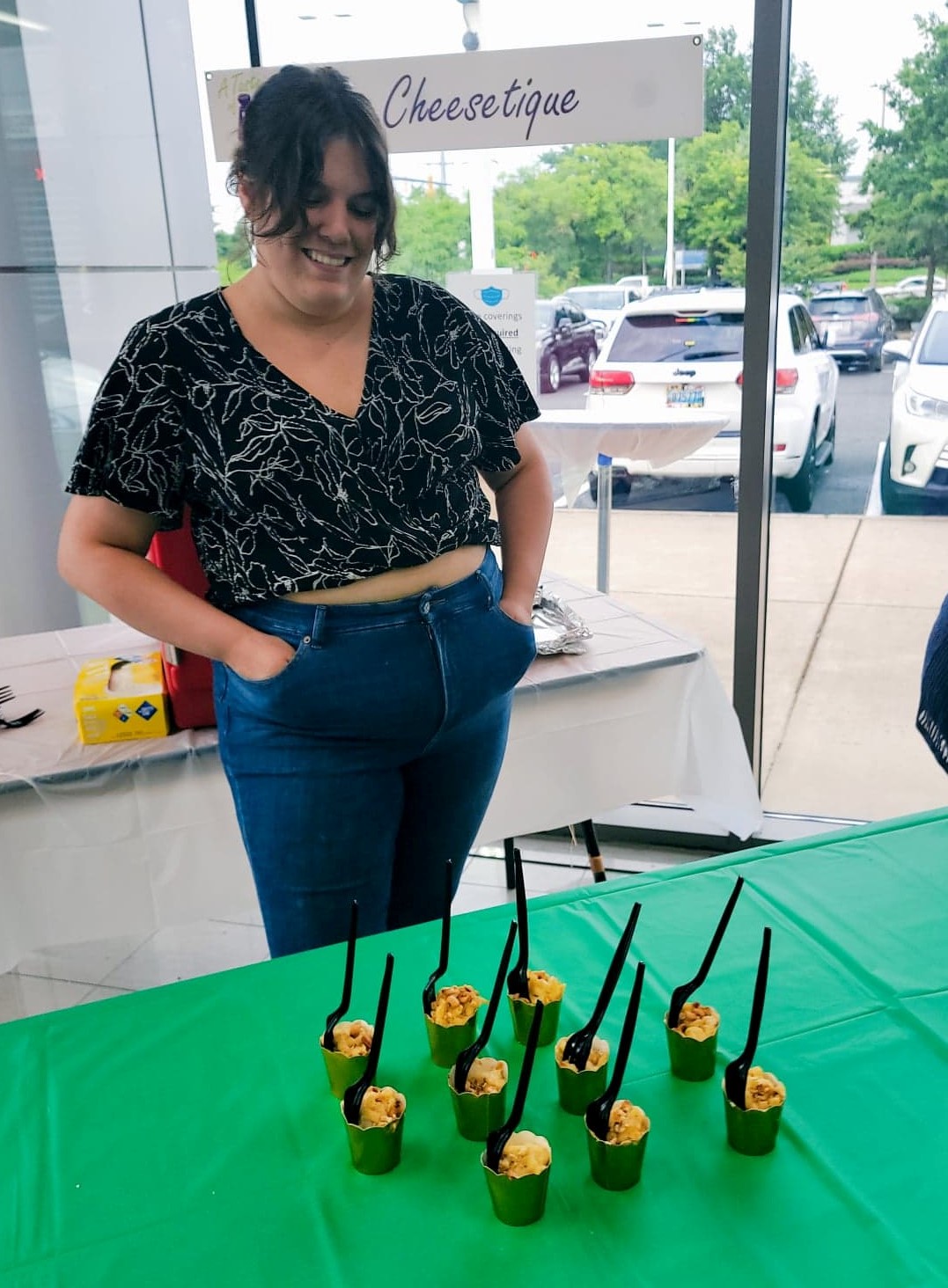 Stomping Ground offered their StickMaple Bacon Biscuits with a Pecan Crumble. Their biscuits are the best around town and they brought the real goods. These were flavorful buns of sweet and salty. The final bite of the day were the Chocolate Merlot Cupcake and Moscato Cupcake served up by Sweet Relief. Formerly known as Small Cakes, the cupcakes were perfect. Each one afforded a two-bit delight of the perfect balance of flavor of cake and frosting reflecting their wine flavoring. I'm glad I saved them for last as they made of the best finishes of the evening.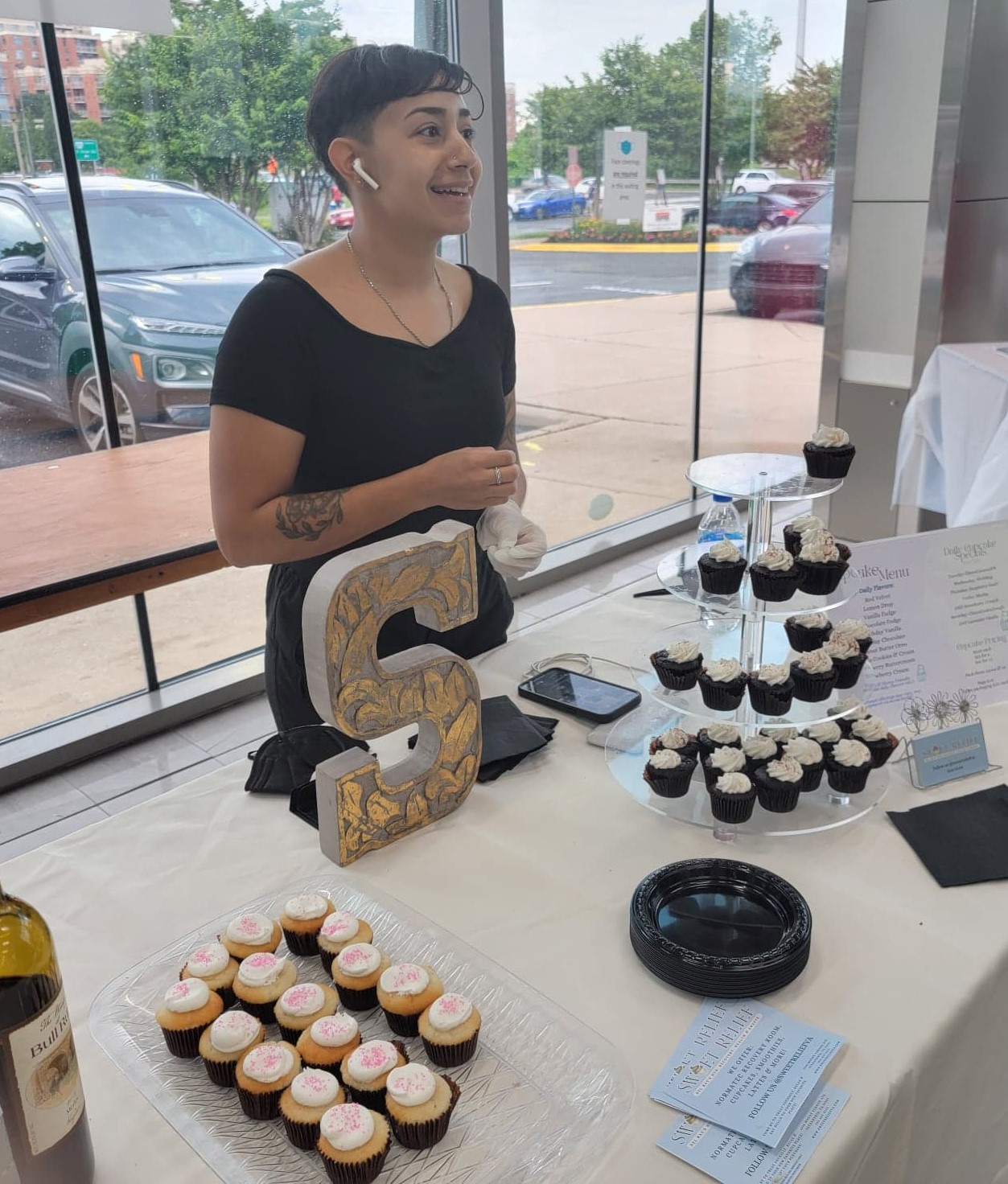 Be sure to bring your appetite and come down to Del Ray this weekend from June 3 through June 5 to try these bites and more. All of these restaurants have gone all out, offering the above bites and more for $5 at each restaurant. Vote for your favorite restaurant dish with the winner receiving the People's Choice Award.