Arts
One-Night-Only Performance by Veterans Repertory Theater Hosted by Principle Gallery, Nov. 11
"Savage WonderGround" Promises an Immersive Theatrical Experience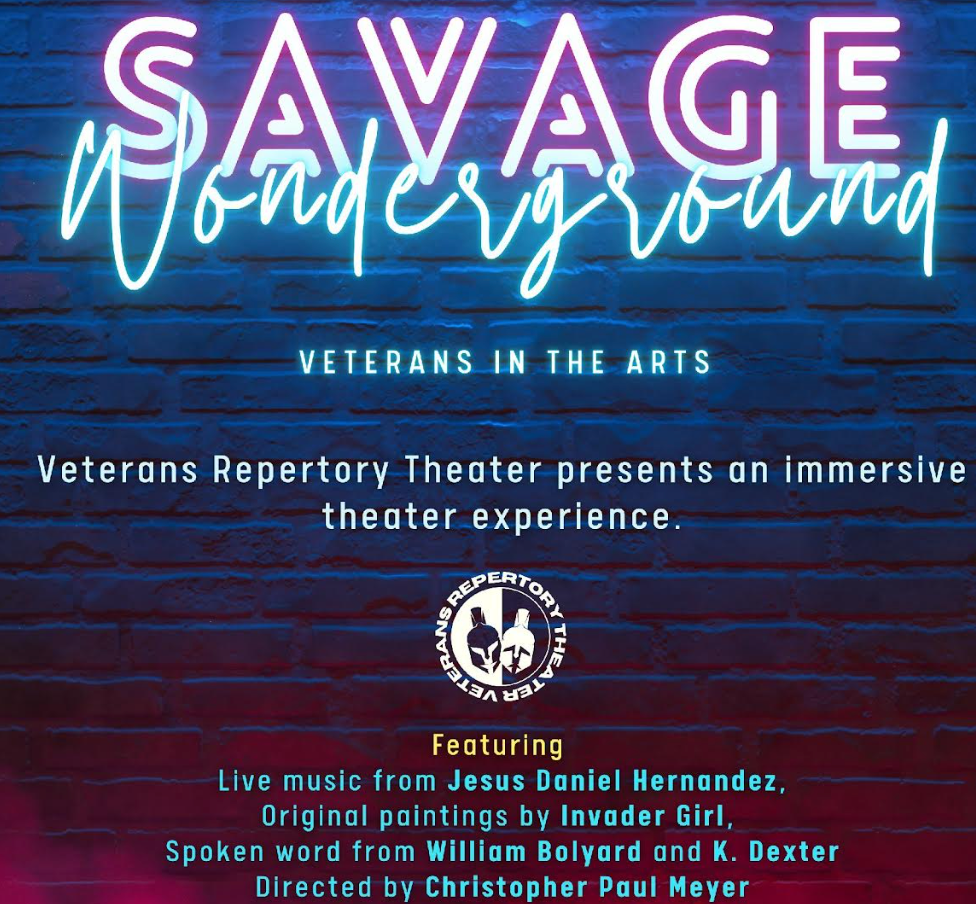 ALEXANDRIA, VA – The Principle Gallery will host the Veterans Repertory Theater (VetRep) for their inaugural Savage WonderGround, an immersive and theatrical event on Friday, November 11th from 7-9pm. The performance begins at 7:30 pm and is organized by Veterans Repertory Theater & the Artistic Director Chris Meyer.  This event is a spin-off of VetRep's highly successful Savage Wonder Festival of Veterans in the Arts.
"Veterans have been exposed to danger, austerity, stress, task saturation, exhaustion, trauma. They have seen humanity at its most extreme – war, famine, drought, disease. They have experienced the emotions that come with such extremes – violent terrors, quiet fears, the weight of loneliness," as Meyer explains on their website. "Then there's the dark humor, discipline, self-doubt, the giddy camaraderie. In short, veterans have a wealth of experiential knowledge that can make for wildly unpredictable, compelling, entertaining theater."
Each Savage WonderGround performance is designed to be completely unique to the venue and this theme is "If this was me". The hour-long presentation will begin at 7:30 pm and consist of three, twenty-minute performances that will take you through the Gallery and artwork of Invader Girl, a collection that will be at the Gallery for one night only.
Three different entertainers will carry the narrative of Invader Girl's artwork as the audience moves through the space. Performers include poet and former USMC, Dex, writer and former Army infantryman, William "Buck" Bolyard, and classical singer and veteran, Jesus Daniel Hernandez.
With a mission to re-energize and re-invigorate the multimedia arts, VetRep was founded in February 2021 and is a 501(c)3 non-profit theater. It brings talented veterans and world-class artists and performers together under one roof to create compelling live theater and events. Through an ongoing series of playwriting competitions, VetRep assesses, develops, and mentors talented veteran writers. 
Their 2022 season runs from April 2 to December 10 and consists of weekly staged readings at their Parlor (NY), special events, and the Savage Wonder Festival of Veterans in the Arts.
 Tickets can be purchased here and if you aren't able to attend you can still support their mission by providing a donation here.
[SEE ALSO: Review of October's Alexandria Choral Society 'Out of the Deep Concert']