Community News
Giving Back
Record Breaking $2.8M Raised for Alexandria Nonprofits in 24 hours During Spring2ACTion
Alexandria's 13th Annual Giving Day Brought Out Over 7700 Generous Donors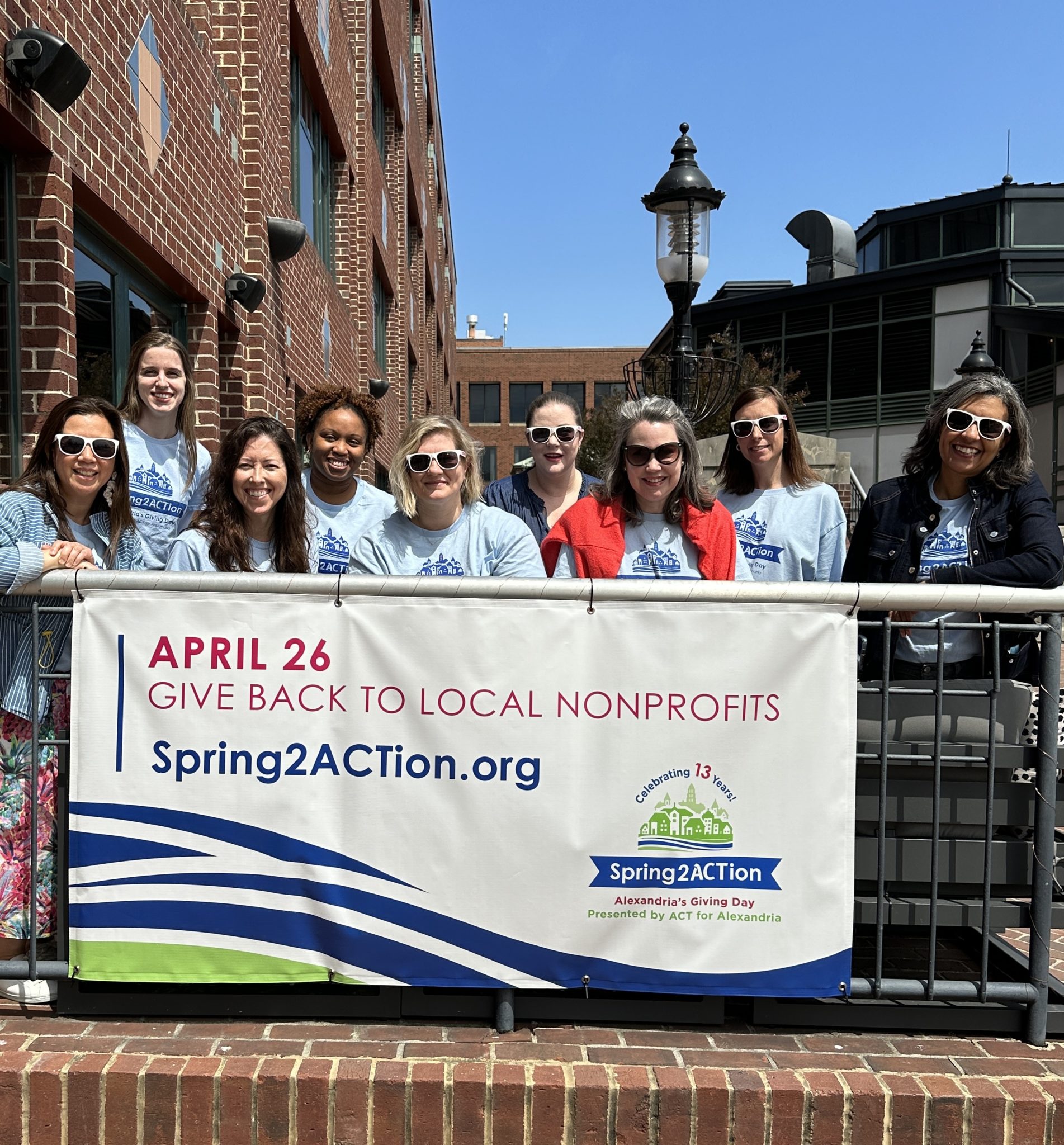 ALEXANDRIA, VA— In a press release this morning, Heather Peeler, President and CEO at ACT of Alexandria shared the news that Spring2ACTion, Alexandria's 13th annual community-wide Giving Day raised more than $2.8M for 187 nonprofits on April 26, 2023.  The annual online fundraising event is an indispensable platform for local nonprofits to engage the community and raise critical funds.  Since Spring2ACTion's founding in 2011, the annual event has raised more than $20 million dollars benefitting more than 200 local organizations.
"We are so grateful for all of the donors, sponsors and nonprofits that participated in this incredible event" says Heather Peeler, President and CEO of ACT for Alexandria (ACT), which hosts the annual fundraiser. "Alexandria's nonprofits do so much for our community and today's outpouring of support means that they can continue to provide critical programs and services in the months to come."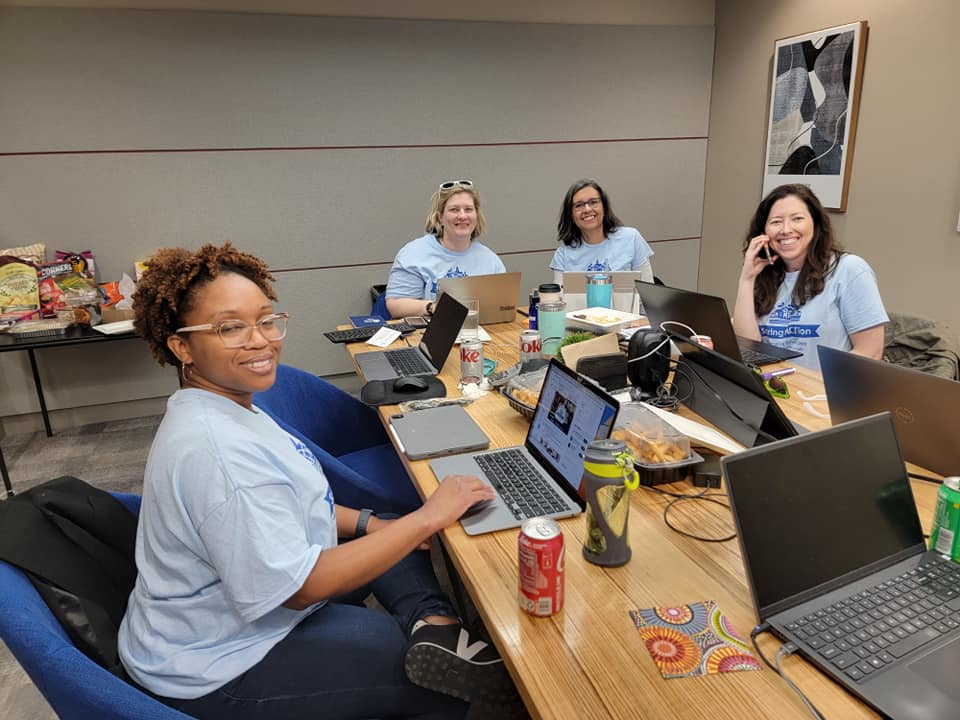 Spring2ACTion's success is only possible because the entire community joins together to celebrate generosity.  Local businesses play a key role in the day.  Businesses like Amazon, the City of Alexandria, along with more than 75 others participated in the Giving Day by supporting the day as a sponsor, amplifying the day as a business fundraiser and encouraging their employees to give, or donating back a percentage of proceeds to their favorite nonprofit.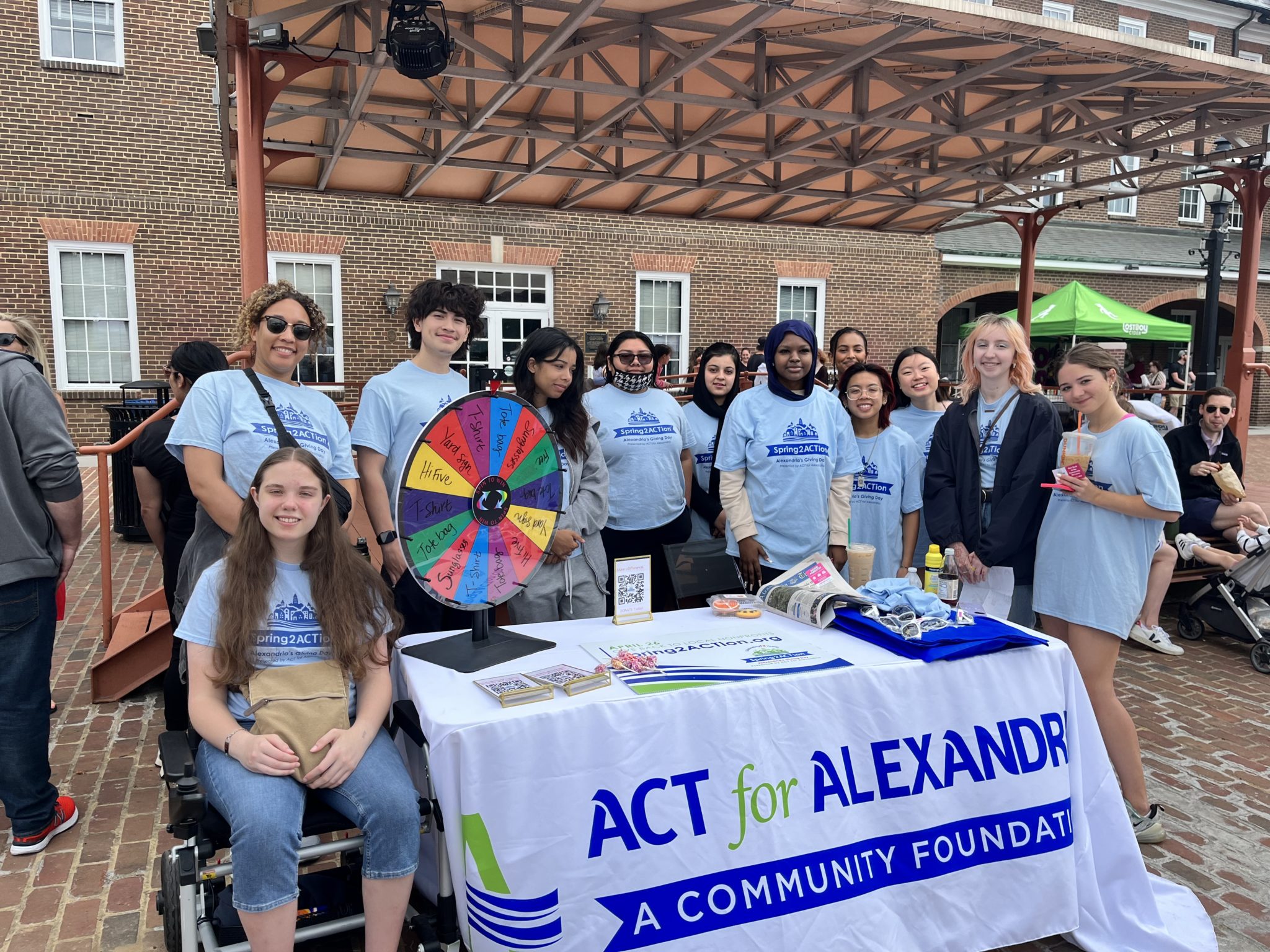 Local families, individuals, businesses and other groups also advocated for causes important to them by serving as peer-to-peer fundraisers for participating nonprofits.  297 community members led their own fundraisers, resulting in $250,000 for 46 nonprofits.
The TOP TEN–CLICK IMAGE to see whole leaderboard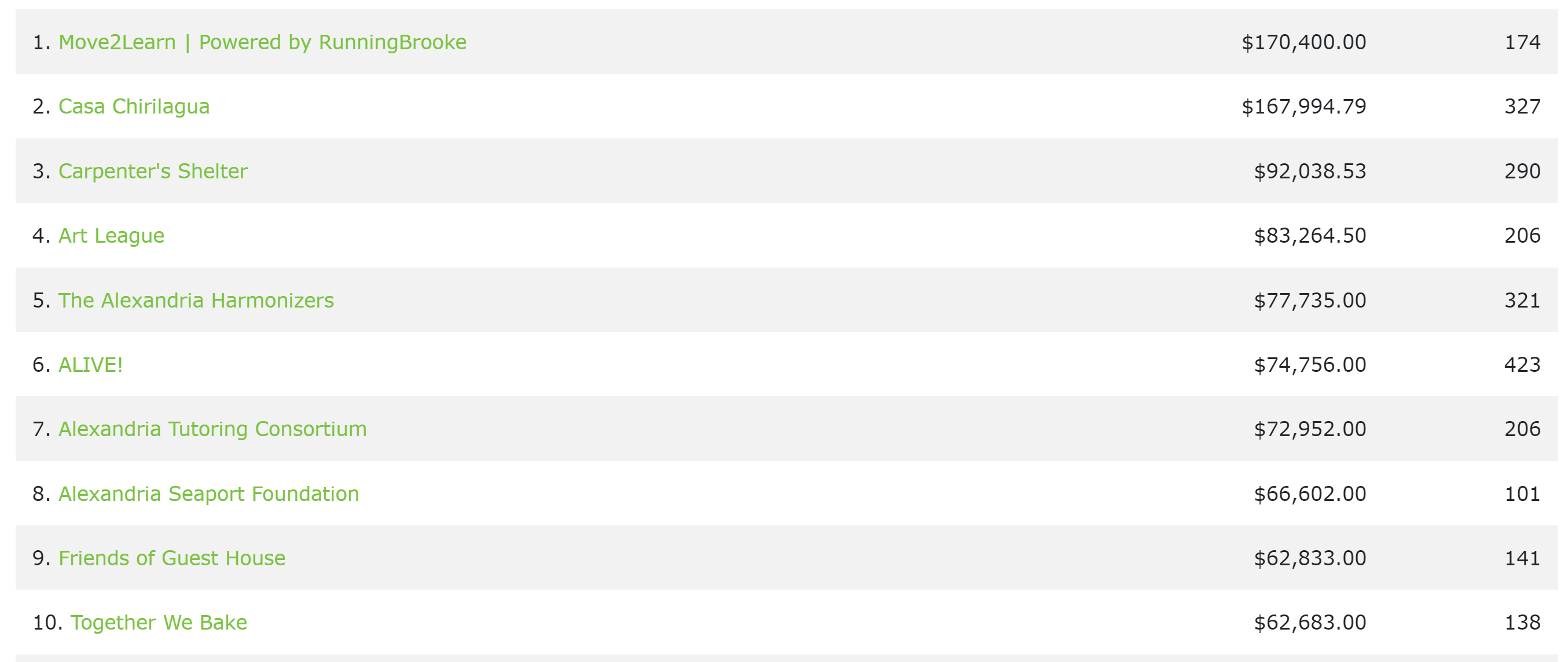 This year, donors could give to a collective emergency support pool to help families who are facing significant financial hurdles that were exacerbated by the COVID pandemic. The Alexandria Resilience Fund provides emergency financial assistance for food, eviction prevention medical expenses and other supports to help Alexandrians in crisis.  The abrupt end to pandemic-related rental and food supports paired with cost-of-living increases has left many Alexandrians to make difficult decisions between food, shelter and other basic needs.  Spring2ACTion is vital for nonprofits raising funds to meet the overwhelming increase in needs.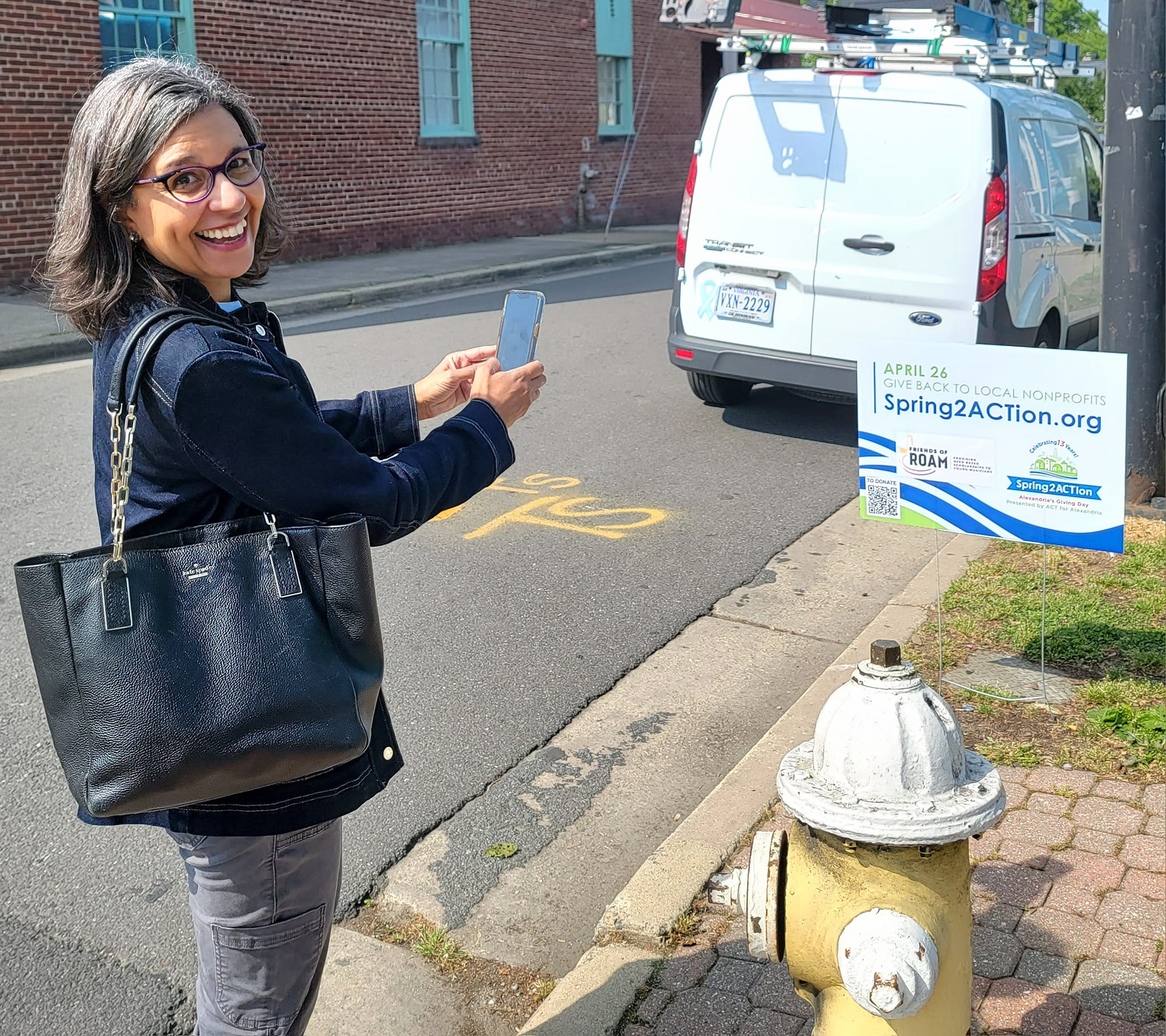 Spring2ACTion sponsors include: City of Alexandria, Amazon, The Patterson Group of TTR | Sotheby's, King Street Wireless, Madigan Schuler, Seward Group of TTR | Sotheby's, Wegmans, BASH, ESP Tea & Coffee, Washington Gas, Braemar Cabinetry, Burke & Herbert Bank, Clarke & Sampson, COVANTA, Giant, John Marshall Bank, Marks-Woods Construction Services, Monument Title Company, Betsey R. Rosenbaum and Jon H. Rosenbaum Fund, Speedwell Law PLLC, Transurban, and Virginia Tech.  Media Sponsors include: Alexandria Gazette Packet, Alexandria Living Magazine, Alexandria Times, VIP Alexandria and The Zebra.  ACT Annual Partners include:  Alexandria Restaurant Partners, ALX Community, Citi Foundation Community Progress Makers, Colonial Parking, Reingold and Verdence Capital Advisors.  Spring2ACTion is hosted on the GiveGab platform.
To learn more about Alexandria's Giving Day and all of the prize winners, visit:  www.Spring2ACTion.org and #Spring2ACTion to see all of the social media buzz.
TRENDING: First in the Nation, Alexandria's Animal Shelter Becomes Certified Autism Center