Community News
Alexandria Girls Prove Helping Others Is Ageless
Bake sale raises $200 for Ukraine through Save the Children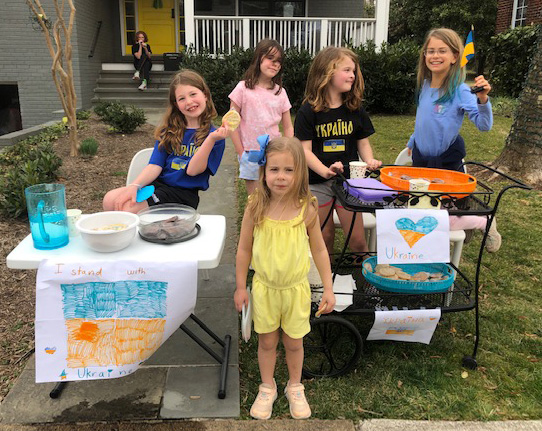 Editor's Note: The following was written by eight-year-old Helena Miller. She is a third grader at St. Stephen's and St. Agnes and the granddaughter of Zebra writer Marlene Miller. This article has been edited for clarity.
ALEXANDRIA, VA – Everybody of all ages are helping Ukraine. Some 8 and 9-year-old Alexandria second and third graders recently held a bake sale to help Ukraine.
I came up with the plan. I asked my friend Edie Argetsinger if she wanted to help. Edie immediately said yes. Edie made brownie bites, sugar cookies, and chocolate cookies. I made brownies and sugar cookies.
We thank our moms for helping.
We set up our bake sale in our Braddock Heights neighborhood on a recent Sunday. Soon two of our friends joined us. At the end of the day, we made $200 to donate to help Ukrainians through Save The Children.
Alexandria Website Offers Direct Link to Aid Ukraine Refugees