Eatz
The Turkish Coffee Lady, More Than Just Coffee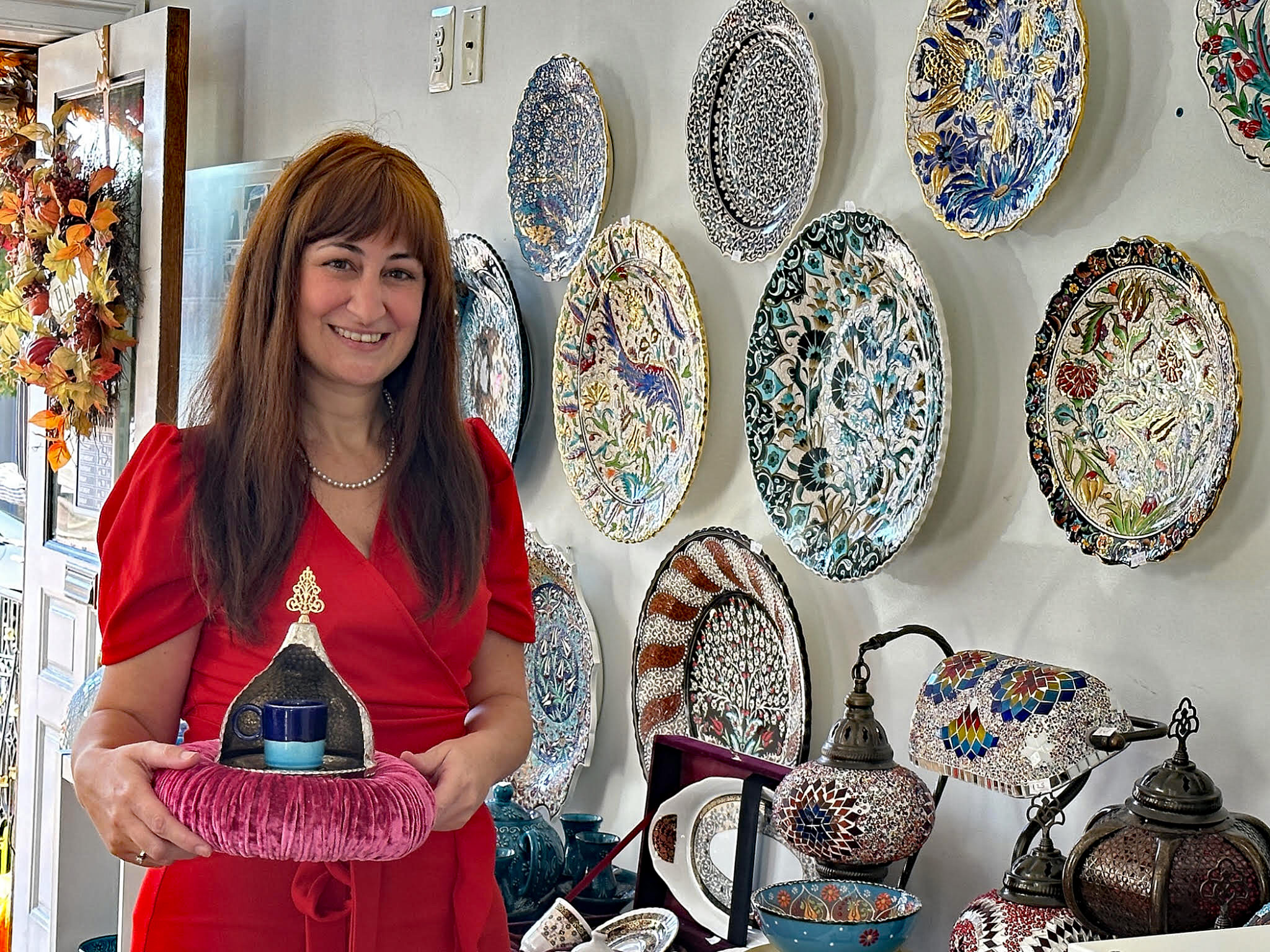 Alexandria, VA – Step into 1001 King Street, Alexandria, and feel you have been transported directly to Turkey. Colorful art adorns the walls, Turkish music plays on the stereo, cases full of Turkish treats, greeted by warm hospitality, and of course, coffee! This one-of-a-kind coffee and culture house, which opened in January 2022, seeks to bridge cultures over coffee. The Turkish Coffee Lady Gizem Salcigil White has found her true calling in creating the environment to make this happen.
The mission of the Turkish Coffee Lady is to promote the over 500-year-old Turkish coffee culture. "The way of enjoying Turkish coffee is a ritual, a centuries-old tradition," says White. She explains that drinking Turkish coffee, it's not just grab-and-go. Instead, it is a form of self-care.
Turks created the first coffee brewing technique in the 16th century and introduced the coffee culture to Europeans. Turks were the first to roast and grind the coffee beans into a fine powder and brew it in a unique pot still in use today. The richly flavored coffee is healthful because it is unfiltered. Drinkers receive all of the vitamins from the coffee beans.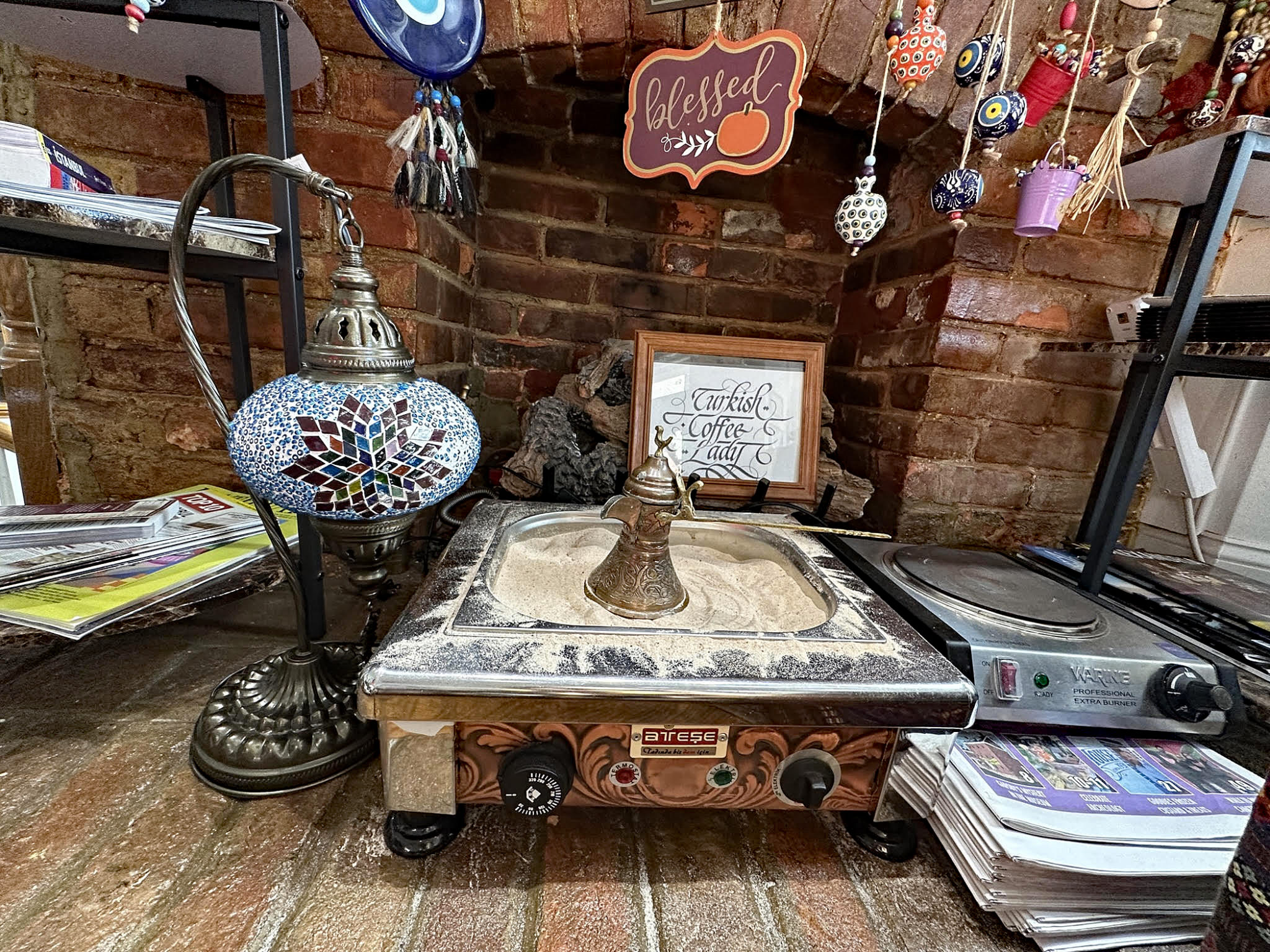 White explains that the ancient art consists of grinding the beans, roasting them, and finally presenting the coffee. The ritual is first to drink water to cleanse your palate so you can taste the coffee better, then slowly sip and savor the drink. Turkish delights, various starchy, sugary sweets often served in cubes, accompany the coffee. After finishing, there is a tradition of reading the grinds to tell fortunes.
White grew up in Ankara, Turkey's capital city. Her first job was in banking in Istanbul, but she quickly realized that communicating with people was far more enjoyable than sitting behind a computer all day. She followed her brother to Boston and attended first Boston University, then Emerson College. In 2008, she moved to D.C. and, in 2010, married Nathan White at George Washington's River Farm.
It didn't take White long to realize that people had never heard of Turkish coffee and its culture. When speaking with her, it's evident she loves her home country and is passionate about promoting her cultural heritage. "People go to Turkey and they fall in love. It's heaven on earth," says White, "everywhere you go there is thousands of years of history."
White began working in the Turkish Embassy's press office in March 2011 and was active in organizing events and hosting coffee workshops in the Turkish community. She quit her job in May 2012, fundraised through the community, started a nonprofit volunteer team, and took her mission on the road.
The Tourism and Culture Office at the Turkish Embassy became a sponsor of the first Turkish coffee truck tour. Funds were also raised from Turkey's oldest coffee ground seller Kurukahveci Mehmet Efendi, Turkish Airlines, the American Turkish Association of D.C., Turkish cultural groups, and individual community members.
White rented a coffee truck and, with around ten volunteers (including students), went on a tour visiting DC, Baltimore, New York, New Haven, and Boston. Local volunteers from the Turkish community also helped when they visited festivals and downtowns, giving away free Turkish coffee. White and her volunteers would explain the culture and say that they lived the life that Turkish coffee culture embodies, creating friendships, peace, and hospitality. People naturally started calling White "The Turkish Coffee Lady," and she loves it.
Europeans got wind of White's U.S. tour and asked her to promote Turkish Coffee in the Netherlands, Belgium, and France for two weeks. She then started working for Turkish Airlines and later the World Bank, but the need for her to be a cultural ambassador was strong. In 2016, she accepted Canada's request and toured Toronto.
In December 2017, with a baby on the way and to create more stability, White opened the first Turkish Coffee Lady kiosk in Tyson's Corner Mall. One month, she was diagnosed with breast cancer. With great help from her staff and community members who kept the store viable, she went to Turkey for six months for chemo, radiation, and surgeries to treat her illness.
Upon her return to the U.S., the pandemic forced the Tyson's coffee kiosk to shut down. During this period, White began formulating coffee blends. She also created a foundation to empower women after seeing how negatively COVID affected them as primary caregivers. The group started with coffee talks via Zoom. She says it was like "Turkish coffee therapy."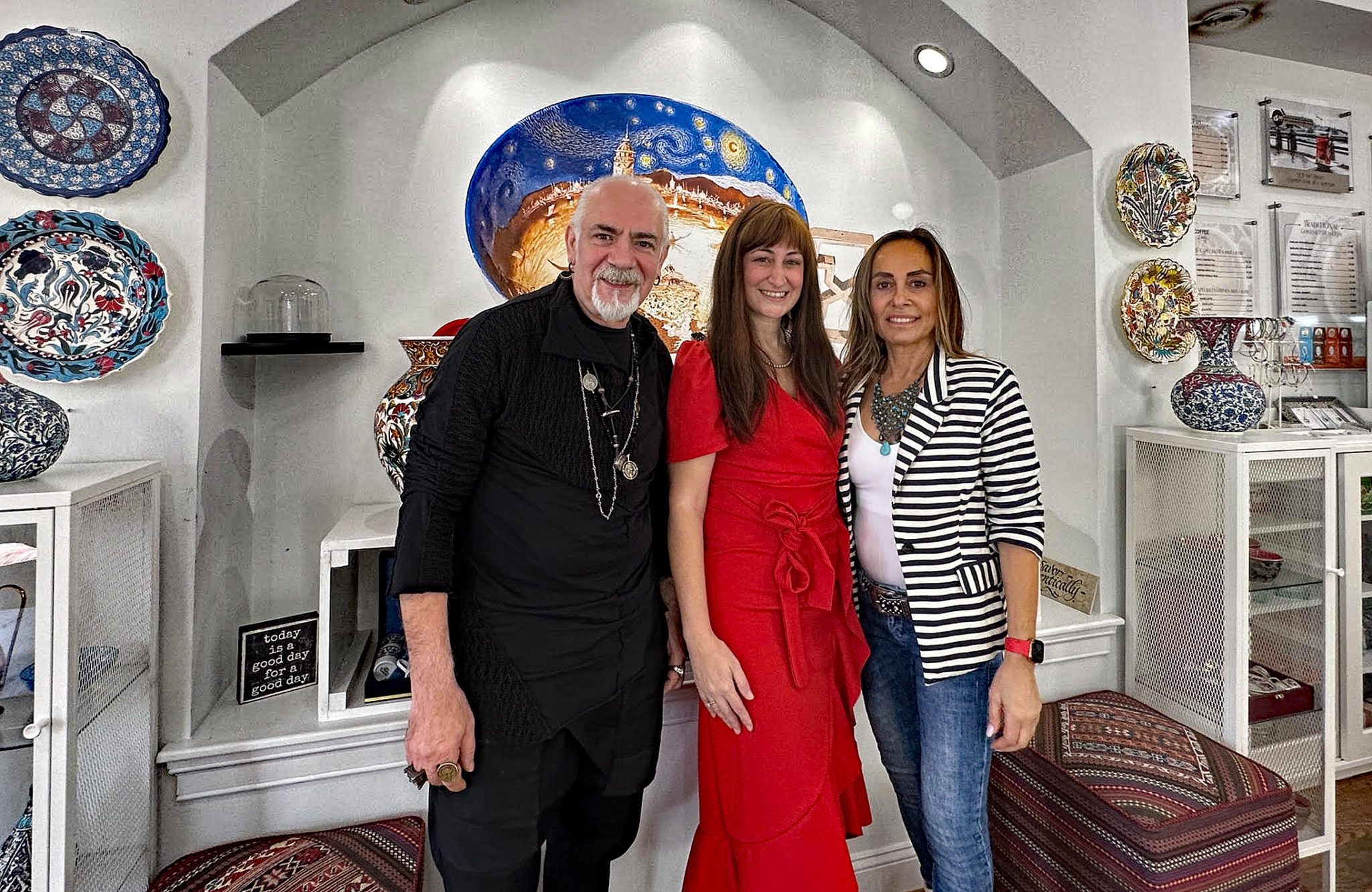 In the summer of 2021, White asked "Istanbul's Microangelo" Hasan Kale to travel to eight cities in Turkey to create a documentary highlighting ancient landmarks and learn about their different coffees and the rituals around them. Kale is an artist who creates tiny art on everyday objects. He often uses coffee as his medium. The documentary will debut on December 4 at World Turkish Coffee Day Celebration. (See sidebar.)
Congress has recognized Gizem Salcigil White for bridging the U.S. and Turkey through coffee. The Turkish Coffee Lady was recently chosen as the 2022 success story by the Virginia Small Business Development Center. She feels that she is living her dream, and her energy is contagious. Come visit this unique coffee and culture house. As White says, "You don't need to go all the way to Turkey. Turkey is in the heart of Old Town."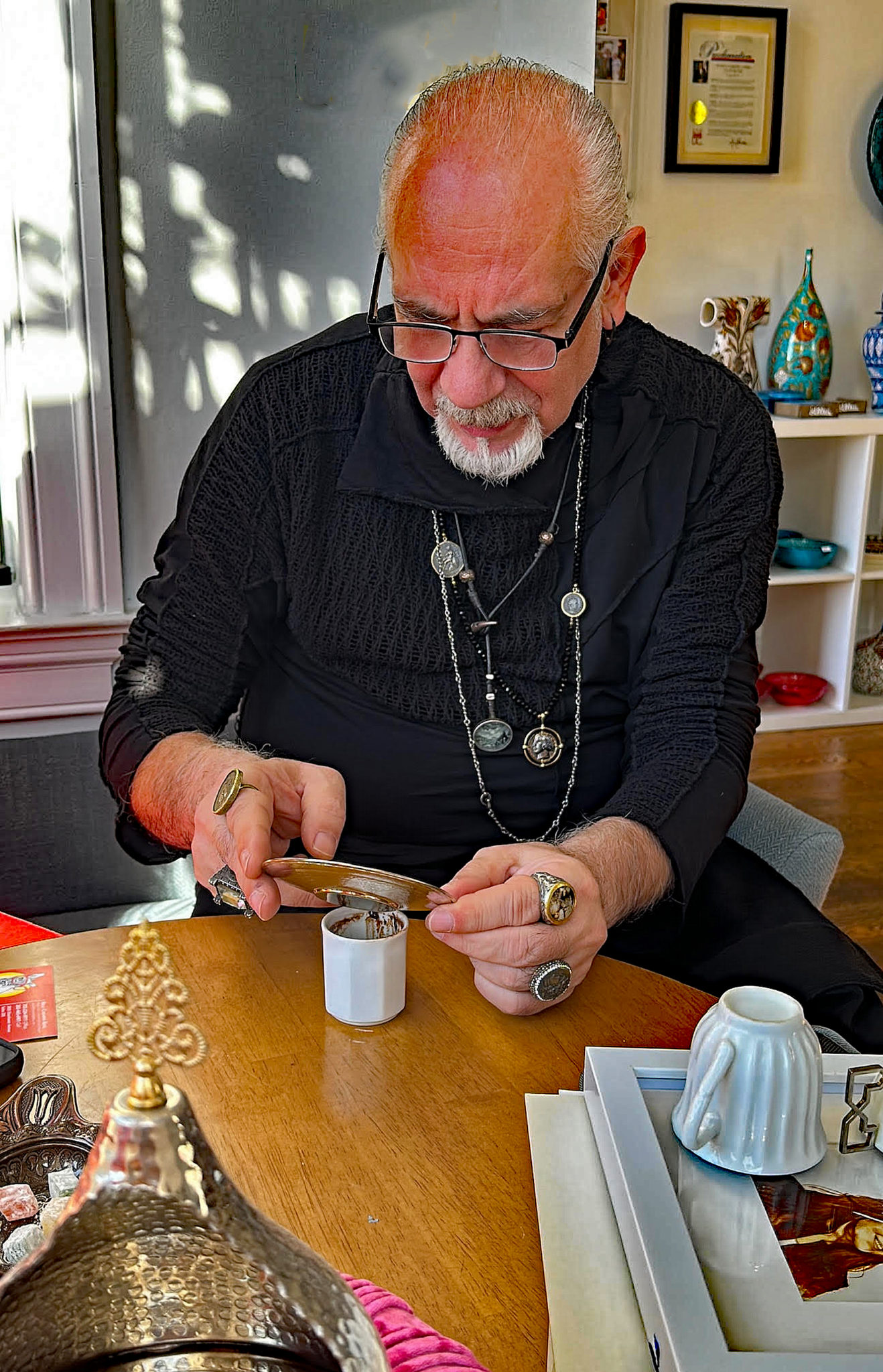 The Turkish Coffee Lady is at 1001 King Street in Old Town Alexandria. Hours are 11:00 am to 8:00 pm daily.:
Celebrate World Turkish Coffee Day in Alexandria
Bring your friends and family to observe World Turkey Coffee Day at the George Washington National Masonic Memorial on December 4 from 3:00 pm to 5:00 pm.
Turkish Coffee was the first beverage included on UNESCO's World Intangible Heritage list. Turkish coffee brewing techniques originated in Istanbul in 1554. Following a Turkish cultural group initiative, the U.S. Congress declared December 5 as World Turkish Coffee Day.
Turkish Coffee Lady Gizem Salcigil White plans to commemorate this special day by debuting the 50-minute documentary, Turkish Coffee Tales of Anatolia, that she and Hasan Kale filmed in summer 2021. The film showcases different Turkish coffee tastes and traditions in eight Turkish cities: "dibek coffee" in Mardin, "mirra coffee" in Sanliurfa, "menegic coffee" in Gaziantep, "saffron coffee" in Karabuk, "coffee brewed on ash" in Nevsehir, "coffee brewed on sand" in Ankara, "mastic coffee" in Izmir, and "traditional coffee" in Istanbul.
Events will include the Kardelen Dance Ensemble performing a Turkish folk dance, Turkish coffee and dessert tastings from The Turkish Coffee Lady, and a live demonstration by Turkey's micro art master Hasan Kale. Kale paints miniature landscapes and artwork on everyday items, i.e., a rice grain, a pinhead, a butterfly wing.
The event is open to the public. An rsvp is required ([email protected]). The cost is $20 for adults, $10 for students, and free for children under 15. Proceeds will benefit the food program of ALIVE!, the oldest and largest private safety net in Alexandria.
ICYMI: Nestle and Local Woman-Owned Business Launch Brand New Period Chocolate Bar