Cover Story
Celebrating Alexandria Women of the Past, Present, and Future with Month-Long Series of Special Events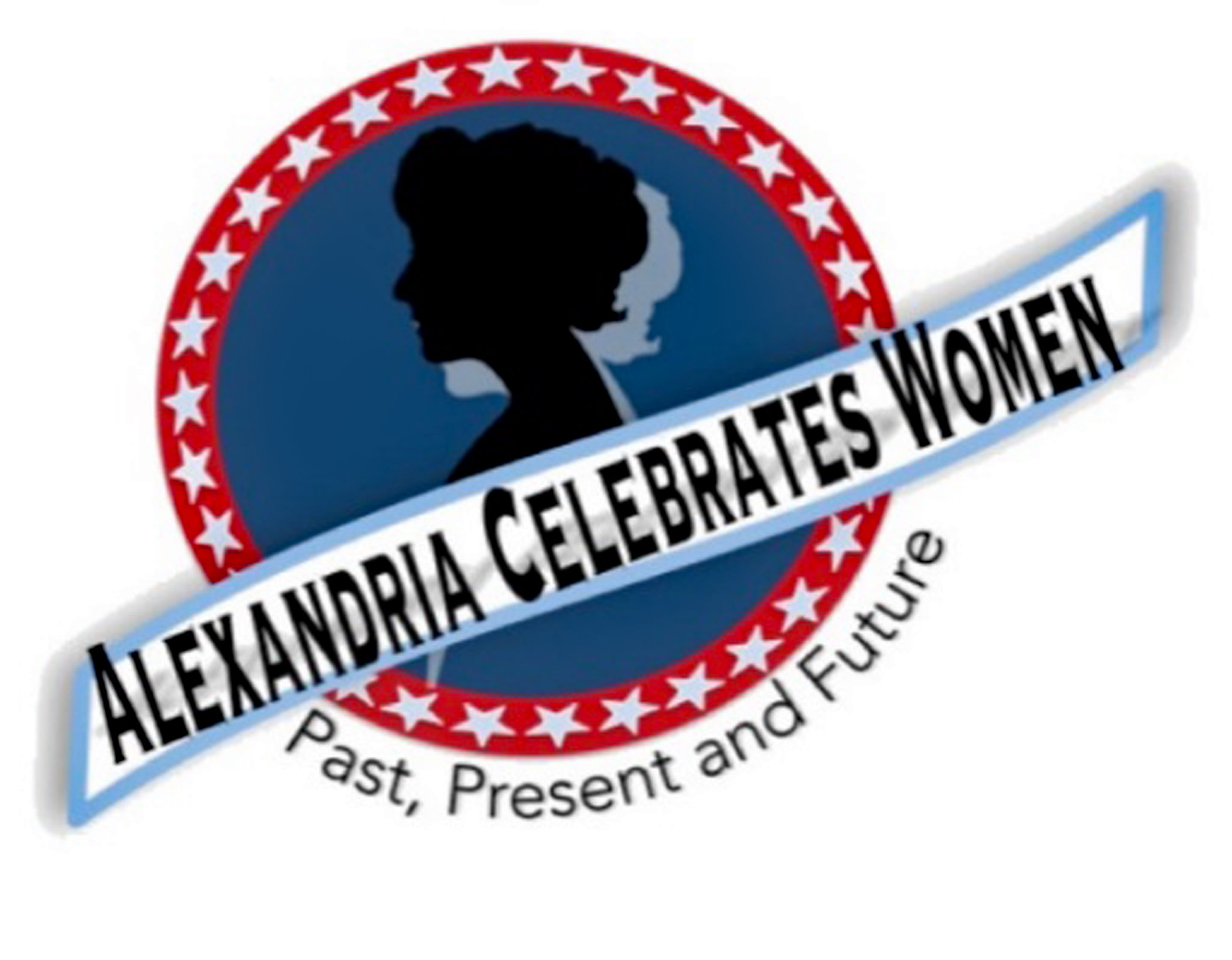 Alexandria, VA – Alexandria is fortunate to have an abundance of independent nonprofit organizations and volunteers working to improve lives and opportunities in Port City. A standout among them is Alexandria Celebrates Women.
In 1974, the Alexandria City Council established the Commission for Women to work toward eliminating gender discrimination and encourage opportunities for women. City commissions are barred from raising money, so an offshoot is needed when a commission's activities require funds.
Friends of the Commission for Women, a separate, nonprofit, non-governmental group, was formed to fill this role. Pat Miller chaired the Friends of the Commission for Women board, organizing volunteers and raising money.
As time passed, the Friends board felt its activities were tied too closely with the commission. Its members decided to form an organization separate from the commission but aligned with its goals.
"It all started with a decaf and a Diet Coke," says Gayle Converse, ACW board vice chair. "Pat and I started to meet some mornings at a coffee shop in Delray and exchange ideas. Pat likes her Diet Cokes, and as for coffee, I stick to decaf. We knew each other from the arts; we're both on the Arts Commission.
Pat Miller and Gayle Converse co-founded ACW in 2019, the year before the centennial of the ratification of the 19th Amendment. "We did a lot of voter registration and things like that at events leading up to the centennial in 2020," says Converse, ACW board vice chair. "Women can work together. It doesn't mean you don't have different opinions on things. But it's been delightful in that sense too. Because we just like to get it done."
Early on, ACW inspired a couple of mayoral proclamations, developed the Women's History Walk, and unveiled the historic marker at the corner of Prince and St. Asaph Streets that commemorates the 32 suffragists arrested in front of the White House during a silent protest for the right to vote in 1917. They were tortured during the "Night of Terror" at the Occoquan Workhouse in Lorton before being released. Senator Mark Warner wrote a message for the occasion, and Congressman Don Byer noted it in the Congressional Record. ACW continues to raise funds for the Domestic Violence Safe House.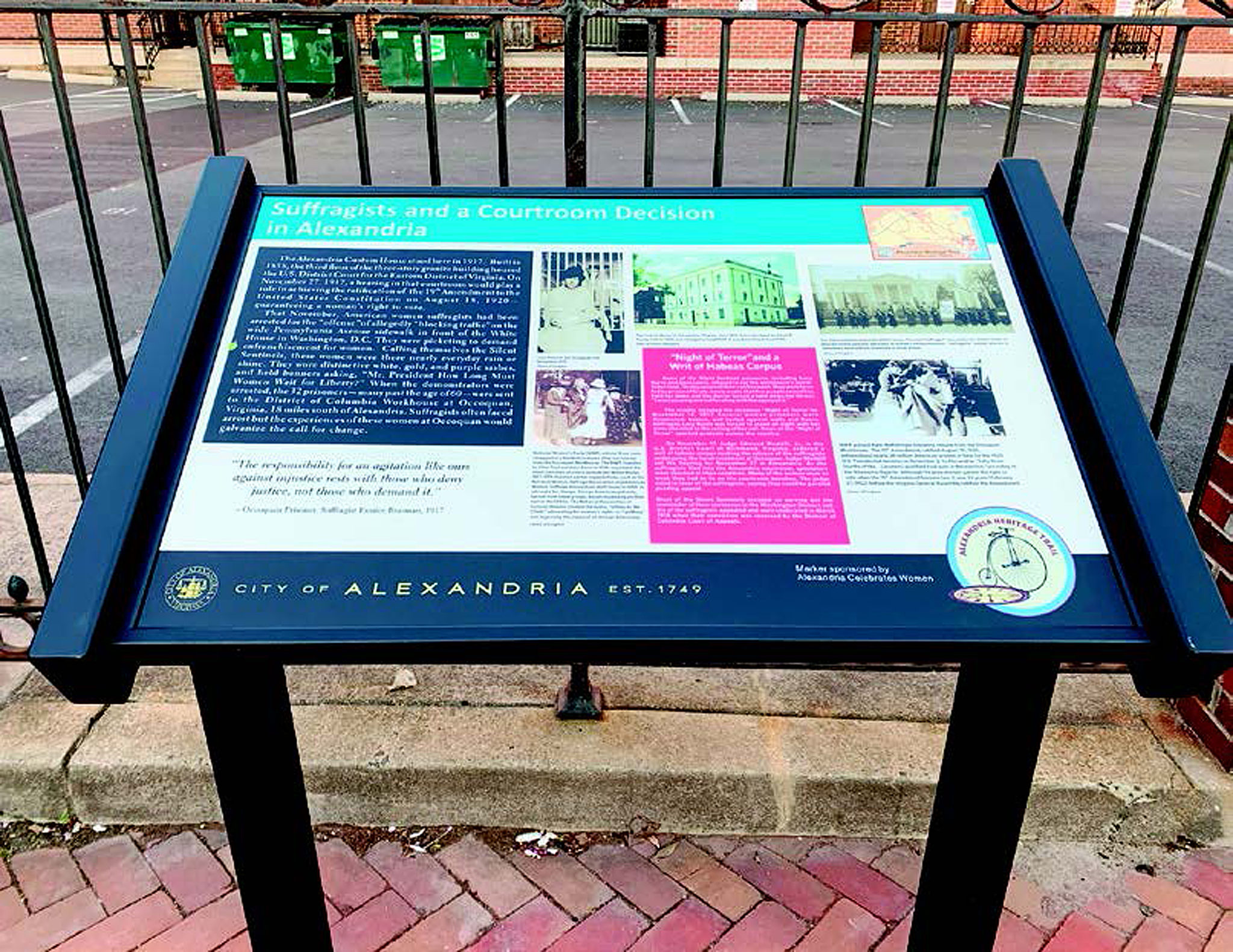 Keeping on through COVID
COVID ended public gatherings in 2020. "The commission used to do the Salute to Women," says Pat Miller. "But they gave it to us, and we took over. You know, COVID hit and threw everything out the door. But in 2021, we did a public nominating process and chose five women to honor who were heavily involved in helping everybody with COVID. It's on the website. We did it totally by Zoom and video. We never had a reception. This year is the first year we're getting to having an actual reception.
"It's funny because we taped (the five women) individually, then edited it all together," she added. "And they kept saying, 'When COVID settles down, can we all get together and just meet each other?' It was, you know, really cool, like all different walks of life."
More recently, ACW has worked on making mammograms available to uninsured and low-income women, working with the Vola Lawson Fund, which pays for a lot of mammograms.
"We were getting into a problem in that, okay, they pay for the mammogram," says Miller. "So what happens [to follow up] when there's a problem? I met Ed Arthur, an unbelievable guy who has daughters and a nonprofit. We started working together, and one thing led to another. Our first idea was a mammo-van to get more people mammograms. That idea grew into a health fair for uninsured people. The fair was on March 25th this year at Cora Kelly. Ed raised a lot of money for the domestic violence safe house last year too."
Looking to the past, present, and future
Alexandria Celebrates Women's theme for 2023 is Past, Present, and Future, as they recognize the accomplishments and contributions of Alexandria's women through time and moving forward. This theme is reflected in the community leaders chosen for this Zebra issue's cover.
Eleanor Breen, City Archaeologist, Office of Historic Alexandria; Audrey Davis, Director of the Alexandria Black History Museum; and Gretchen Bulova, Director, Office of Historic Alexandria, represent the depth of our community's past.
Patricia Washington, President & CEO of Visit Alexandria, and Charlotte Hall, Managing Director, Old Town Business Association, are stewards of the present.
Tracy Do, Firdowsa Mohamed (in brown), and Zuha Hassen (in blue) are 11th grade ACPS students who have demonstrated initiative and leadership in the Key Club and the Leadership Team. "These are places where kids do community service like you wouldn't believe," said Pat Miller. "You call them and say, 'Hey, I need six people on Saturday to do X, Y and Z,' and it's 'Okay, we'll be there.' And these three are outstanding." They represent Alexandria's future.
ACW is a volunteer 501 (c) (3) charitable nonprofit organization that welcomes anyone, man or woman, to participate in its activities and causes. Join ACW in Celebrating Alexandria Women during May at any or all planned events. Springtime in Alexandria is always a time for celebration and joy. Learn more at alexandriacelebrateswomen.com.
ICYMI: Alexandria Lawyer Featured in Critically-Acclaimed Documentary Film