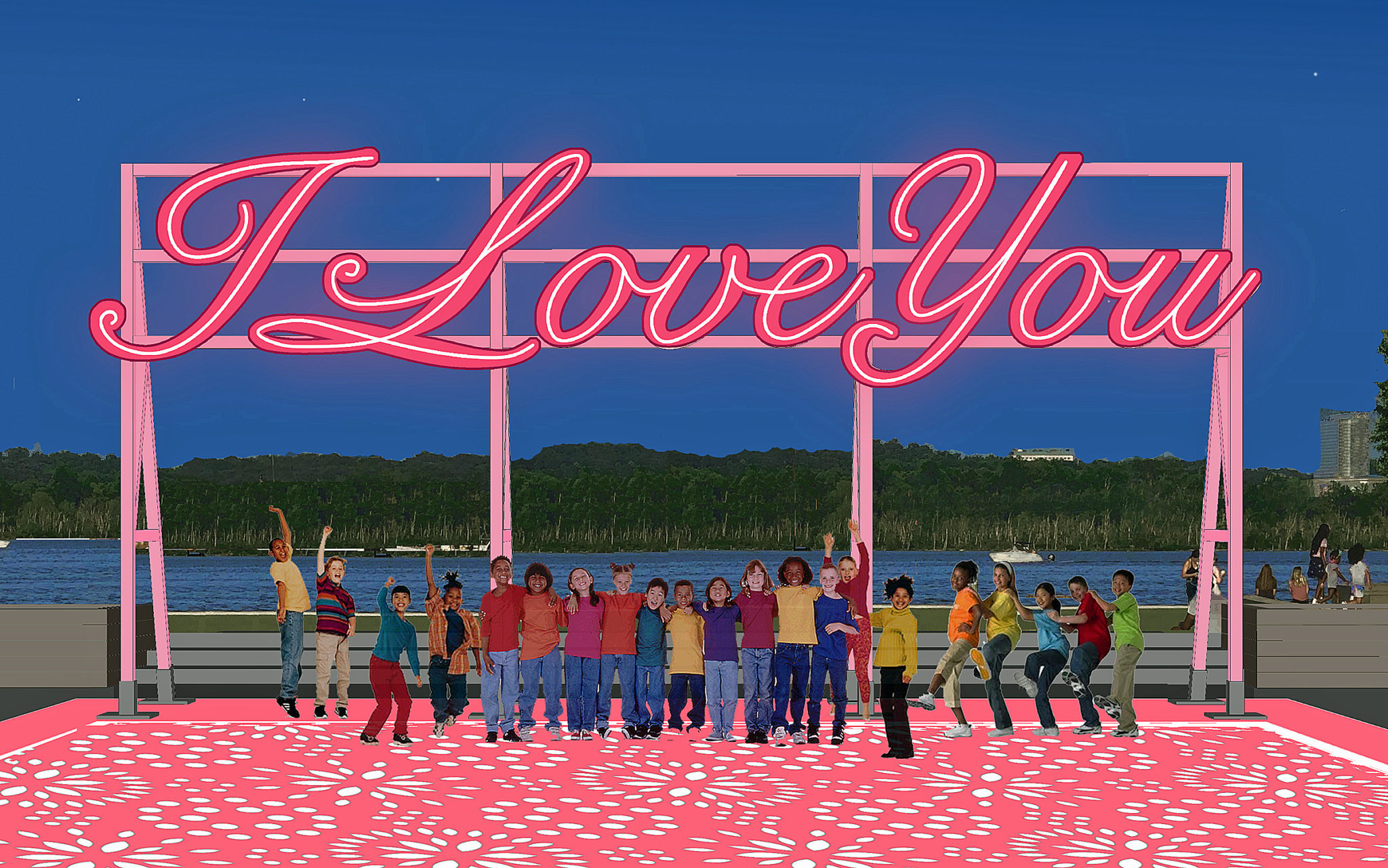 By Amy Jackson
Alexandria, VA – If you have been to Alexandria's Old Town Waterfront recently, you could not miss the recent art installation that beckons a conversation starting with "Why?" The huge "I Love You" is as big in life as it is in provoking emotion. Many feel it is out of place and doesn't belong at the waterfront site. That it doesn't belong in our historic area. That it is somehow infringing upon our rights of not wanting to see something so shiny, flashy, and overwhelming in its expansive metal structure, and its hot pink neon lights as it takes up the space overlooking our Potomac view.
Here's the thing: It's art. It's temporary art. Art is supposed to evoke emotion. It is a conversation starter! So, when you see "I Love You," you either love it or you hate it. Either way, you are talking about it with the feelings of love and acceptance (hopefully) and with the open-mindedness and inclusiveness that our city is known for. I, for one, hope it brings you joy.
Alexandria has always been accessible in its nature and expressive in its feelings. These attributes are a part of what make Alexandria "recognized as one of the country's most premier artistic hubs" (ArtFestival.com). Visitors gravitate to our city to enjoy the wealth of artistic expression we offer, with the crown jewel being the Torpedo Factory. It is renowned as one of the anchors of Alexandria's creative expression. And why not?
The Torpedo Factory is known not for just the artists that call it home but for being artwork itself. It has transformed through the years, reinventing itself physically and recreating its usefulness and image with much thanks to the vision of the City's Commission on the Arts and Art League of the 1960s and 1970s.
One particular member, former Delegate Marian Van Landingham, who was a member on that the Commission and president of the Art League at the time, led the charge to recreate the building as a cultural arts center to be filled with creativity and purpose, where people of all walks of life want to be. With thanks to Van Landingham and her peers, the city moved in that direction in 1974 upon the approval of this vision by the City Council.
"Today, Torpedo Factory Art Center is home to the nation's oldest continually operating community of publicly accessible working artist studios under one roof. More than 165 artists work, exhibit, and sell their art across three floors. It is the creative engine for the region." (TorpedoFactory.org/about-us/history)
Now, a new vision is taking shape. Much like the artistic vision of the Torpedo Factory almost 50 years ago (what seems like generational change), simple livability, accessibility, and educational opportunities inspire new creative ways to display our cultural heritage and artistic promotion throughout the city.
Our schools nurture this outlook as well. Our students' vast creativeness and artistic abilities give us rise to hope, dream, and aspire. Sharing some good news on this front and promoting our ACPS Titan Pride was the announcement by our ACHS Art Department Chair Beth Coast in April through an ACPS social media post:
"The artwork of eight Alexandria City High School students has been selected as part of the Smithsonian Craft Show [at the National Building Museum]. This honor is especially prestigious as it is the first time student artwork will be displayed in four decades of the show." ACHS Art Department Chair Beth Coast explains that the importance of art programs within our schools is unmatched. "Art serves as a creative outlet for students and fosters a strong work ethic, preparing the next generation with problem-solving and communication skills that promote self-expression. These traits are valuable no matter what career path students choose!"
Art is important. I always enjoyed the "Encores" or "Specials" that were my music and art classes throughout my elementary and middle school years. Those classes never really felt like school to me because I was having fun as I was learning. When I was in high school and college, I found my go-to artistic elective, my passion, as I was always with my old Olympus and Nikon cameras. Capturing everyday life, that photography darkroom was my lab, my studio, and my outlet for my creativeness.
Then digital came along with cameras on cell phones, and a whole other experience of filters and lenses opened up to learn about different world perspectives and connections in life. Art communicates. Art makes connections. Art is progressive.
Our artists, residents, and businesses are thinking bigger and bolder about their capability when it comes to our artistic presentation as a city. We realize that our creative expression cannot, and should not, be restricted to one area of the city, one classroom, or one stage.
We as a city have already begun this transformation, and I'm excited about this future! We have live music at Market Square. We have a poet laureate. We have student artwork in the Vola Lawson Lobby at City Hall. We have an abundance of murals throughout our landscape. We host art festivals in Old Town, Del Ray, and Carlyle every year. We have many opportunities to take in live stage performances at the Little Theater of Alexandria and at the future rebuild of the MetroStage (our North Old Town cultural center and arts anchor to complete the Arts District Corridor of the East, north of the Torpedo Factory). We have pop-ups with art entrepreneurs from Del Ray candlemakers to Rosemont matchbook artists. We have temporary art installations on the waterfront! We are so lucky! What a wealth of artistic outlets! Enjoy them! Engage them!
I Love You, Alexandria!
Vice Mayor Amy Jackson, a career educator, was recently elected to her second term on the Alexandria City Council. Raised in Alexandria, she is the first ACHS (TCW) "Lady Titan" to hold a seat as an Alexandria City Councilwoman and now as Vice Mayor. She currently lives in the West End with her husband and two children who attend ACPS.