Arts
School News
ARTStravaganza: St. Stephen's and St. Agnes Celebrates 20 Years of Performing and Visual Arts
'If students started here in kindergarten or junior kindergarten, by the time they go through fifth grade, they've really had a sampling of the extensive world of the arts,' Gehlhoff said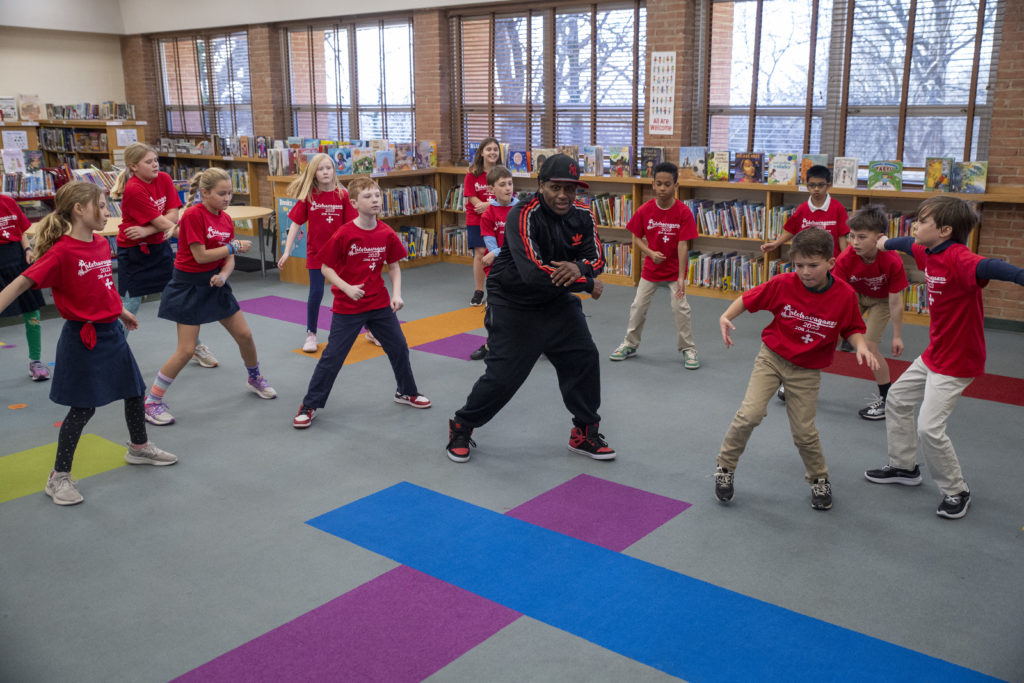 ALEXANDRIA, VA – What happens when over 450 junior kindergarten through fifth grade students get to spend a day attending workshops where they are introduced to hip hop culture while learning the basics of urban dance? Or where they get to explore and practice circus arts with an award-winning clown, juggler, and stilt walker formerly with The Ringling Bros. & Barnum and Bailey Circus? Or where they see a demonstration of gelli plate printmaking by a local artist?
As students on the Lower School campus of St. Stephen's and St. Agnes School discovered yesterday (March 16), you get a wonderful day of education dedicated solely to the performing and visual arts called ARTStravaganza.
Rebecca Gehlhoff, who has taught music and chorus at the Episcopal Day School for more than 25 years, told The Zebra that the annual spring event was the brainchild of former Saints teacher Stephanie Kozenchak, who proposed the idea after attending a conference about the benefits of having professional artists work with students.
That first year, in 2003, the half-day workshops were limited to students in second and third grades, and included only two visual artists and two performing artists.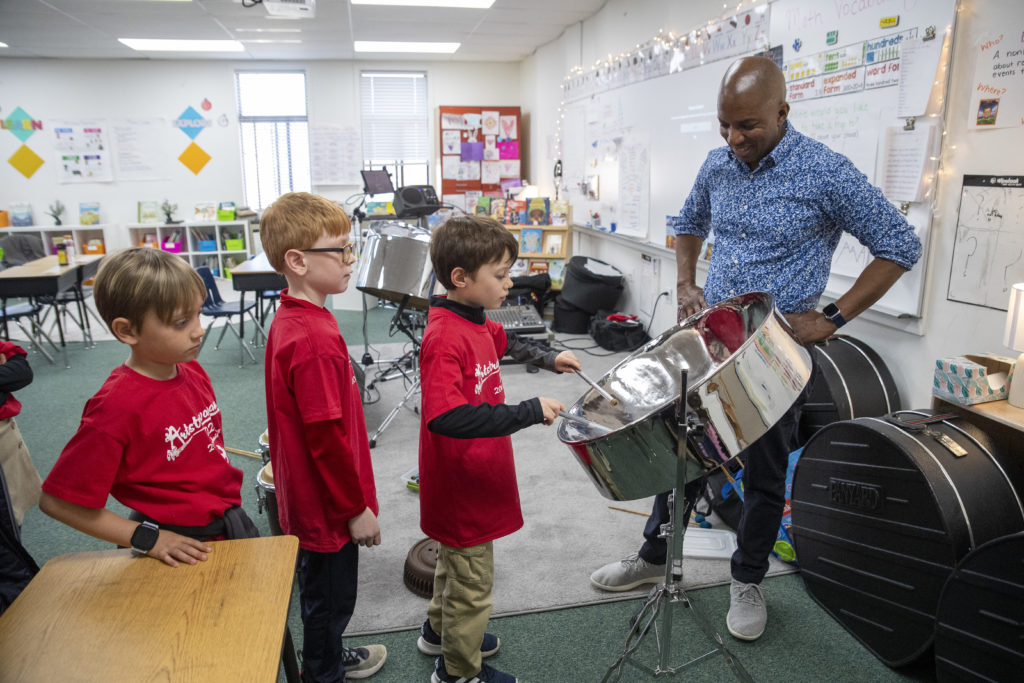 This year, more than 25 musicians, dancers, artists, and storytellers hosted 45-minute interactive arts workshops for numerous wide-eyed and eager children on the Fontaine Street campus during ARTStravaganza's 20th anniversary.
Students had the opportunity to explore Caribbean music and try playing steel drums with the Tobago Bay Calypso Band, discover Hawaiian culture and music while learning to play the ukulele from a native Hawaiian, were introduced to flamenco dancing by a member of the Eastern Shawnee Tribe of Oklahoma, and could practice the art of Japanese calligraphy.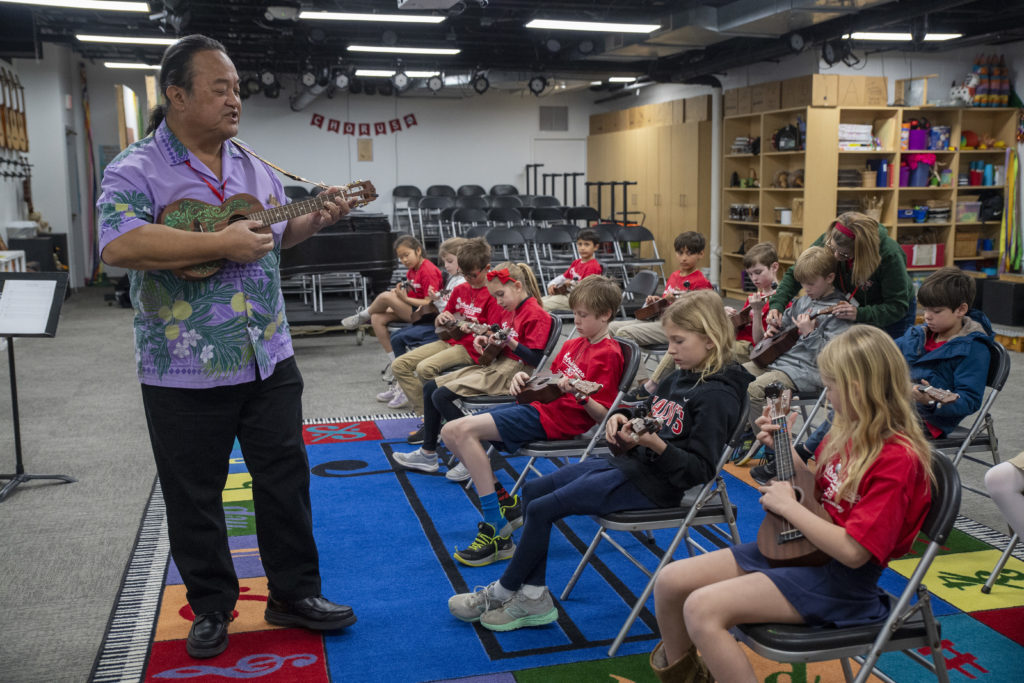 "We really aim to give the kids a global arts experience," Gehlhoff said. "Our goal is to expose them to music, art, and dance from cultures and countries around the world. We try to have our artists reflect that global perspective."
Alexandria-based musician Tom Teasley certainly exemplifies that global experience. The percussionist and educator has collaborated with musicians all over the world and has performed by invitation in Europe, South America, New Zealand, Samoa, and Korea. At his ARTStravaganza workshop, he introduced the fifth-grade students to percussion instruments from different parts of the world. He brought along the Middle Eastern frame drum, the cajon from South America and Spain, and the balafon from West Africa. Teasley then blended ancient and modern technologies by using digital looping to play and record the world instruments in real time, thus creating virtual ensembles.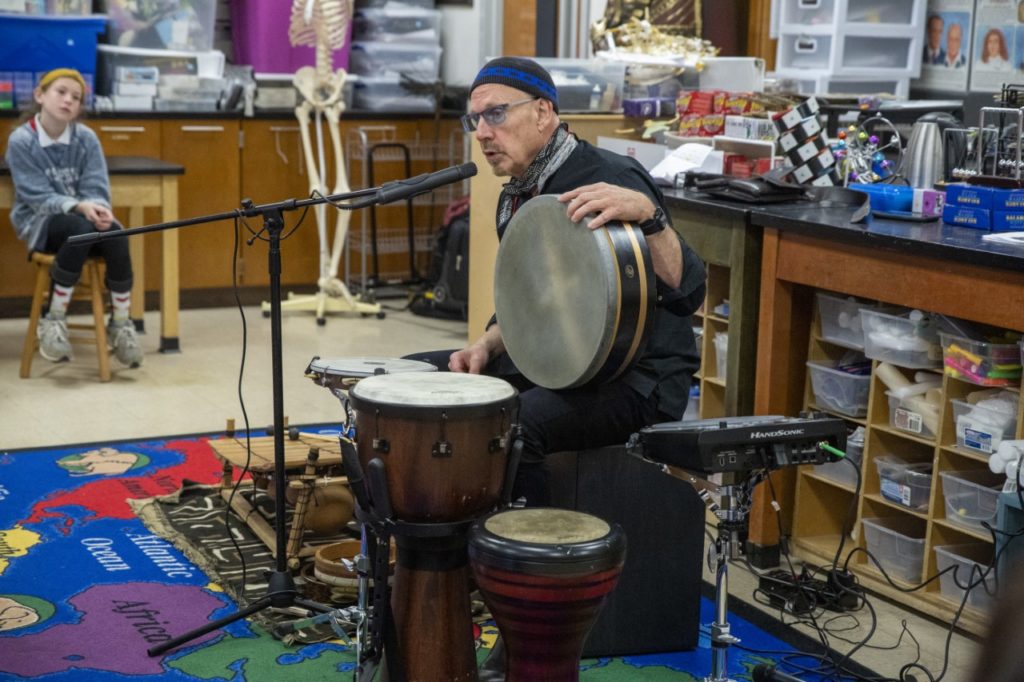 "It's been a fabulous experience for me," said Teasley, who participated in the first ARTStravaganza and who has returned each year since, including during the pandemic, when he provided a five-day residency to fifth-grade students over Zoom. "I enjoy coming back because I find the students incredibly interested and always very engaged."
Beyond attracting performers and artists with regional, national, and international followings, Gehlhoff shared that she is particularly delighted with the strong connections that the Lower School arts team – including Matt Gehlhoff, Cindy Heid, and Jade Xia – have made with local artists.
"Last year, a musician and dancer reached out and asked whether there was a workshop spot available,"she said, "because they heard so much about ARTStravaganza through their local arts community in Lorton, and wanted to be a part of it."
During yestrday's event, other workshops allowed students to try activities like creating cherry blossom art, learning magic, and practicing theater improv. A particular highlight for students was seeing and learning about string instruments played by members of The U.S. Army Band "Pershing's Own."
The day ened with an outdoor concert by the go-go band Strickly Bizness.
When reflecting on two decades of workshops, Gehlhoff shared that she is especially proud of the wide and rich variety of performers and artists that students have interacted with over the years.
"if students started here in kindergarten or junior kindergarten, by the time they go through fifth grade, they've really had a sampling of the extensive world of the arts," she said. "Everything from Mexican otomi to Japanese calligraphy to everything you can imagine under the sun. I feel like we've achieved our goal of giving the students a full day of education devoted to the visual and performing arts, where they have unique experiences they really couldn't have without an event like ARTStravaganza."