Community News
Trending
Flower Moon Over National Harbor and The Capital Wheel Near Washington D.C.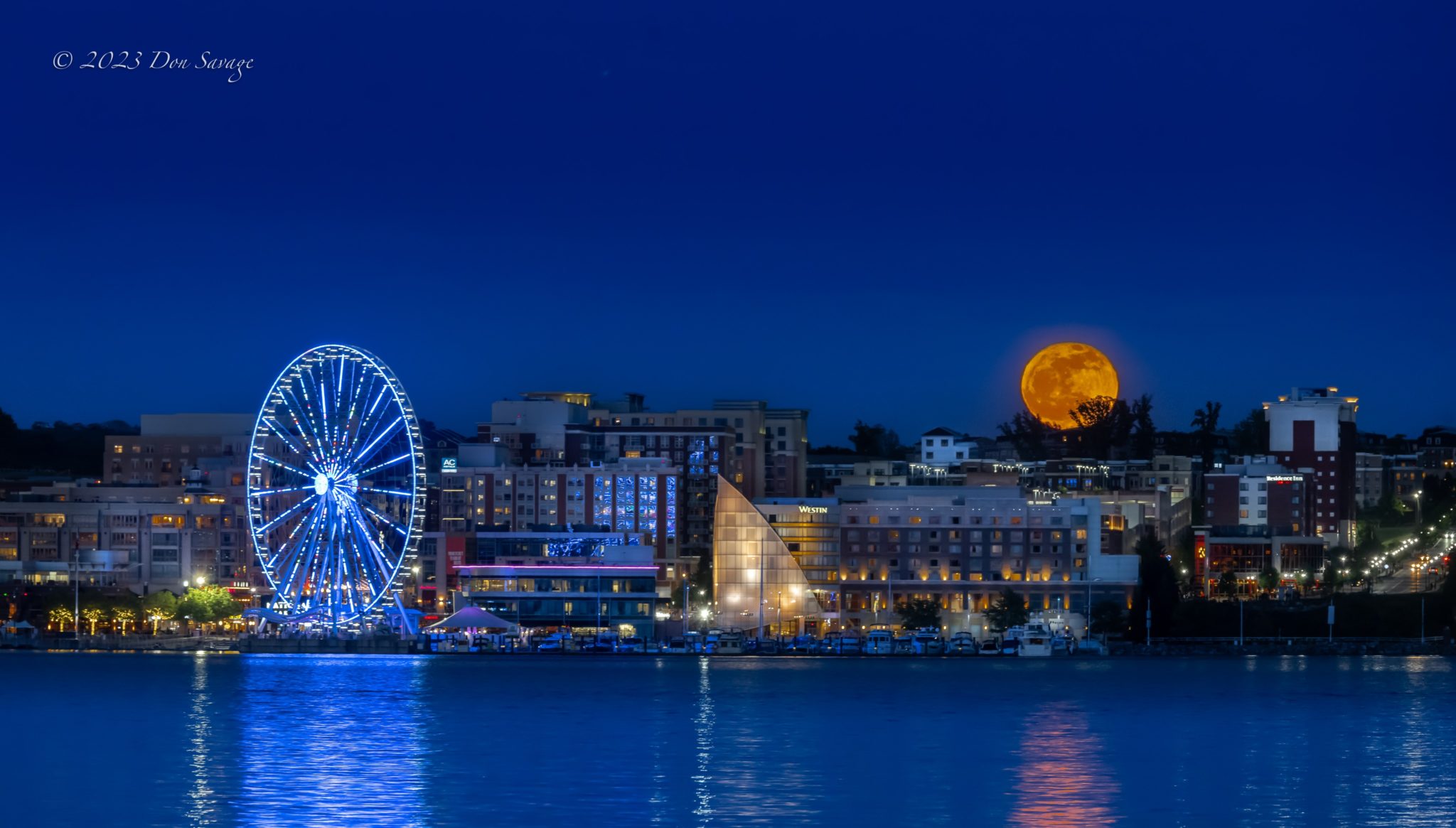 ALEXANDRIA, VA – The full moon, or "Flower Moon" as it was called in May, seemed slowly rose over National Harbor and The Capital Wheel on May 5, 2023, and looked like a painting, or at least the opening for a thrilling or romantic film.
Alexandria photographer Don Savage and others watched from the Virginia side of the Potomac River at Jones Point Park, hoping to get a perfect shot of the amber-colored moon that night., and we think he did.
What Is a Flower Moon?
The name "flower moon" is attributed to the Algonquin peoples, according to the Old Farmer's Almanac, and  celebrates the flowers blooming in North America during early May. May's full moon also goes by these names, according to NASA: Corn or corn planting moon.
Coming UP, look for the "Strawberry Moon" in June
On the evening of Saturday, June 3, 2023—just after sunset—look towards the southeast to watch the full Moon rise gently above the horizon. There, it will appear large and golden-hued.
June's full Moon will reach peak illumination at 11:43 P.M. Eastern Time.
Why Is It Called the Strawberry Moon?
According to the Farmer's Almanac, June's full Moon—typically the last full Moon of spring or the first of summer—has traditionally been called the Strawberry Moon. While strawberries certainly are a reddish-pink color and are roundish in shape, the origin of the name "Strawberry Moon" has nothing to do with the Moon's hue or appearance, despite the evocative imagery (shown in the artist rendering below). A Moon usually appears reddish when it's close to the horizon because the light rays must pass through the densest layers of atmosphere.
BIG NEWS: The Yellow Line Roared Back into Service in Washington D.C. May 7, 2023