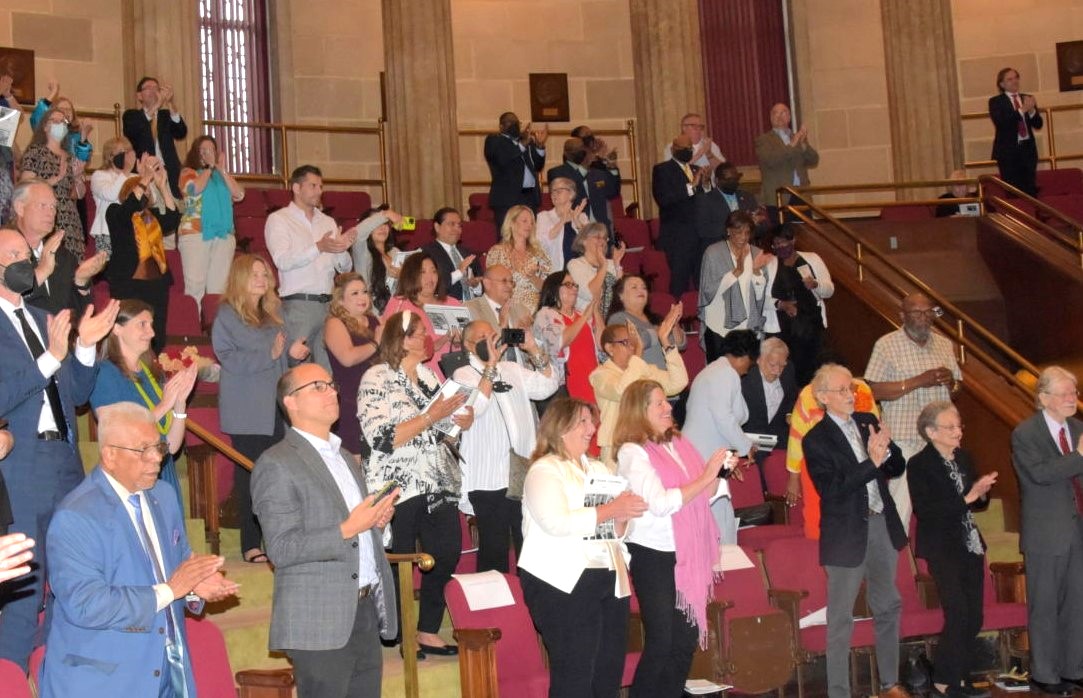 ALEXANDRIA, VA – The Living Legends of Alexandria have announced its selection of Living Legends for 2023. The 2023 Living Legends were vetted from an array of nominations submitted by the public and received through the fall of last year. Due to the pandemic, this is the first new set of Legends since 2020.
Living Legends are chosen because they have improved the quality of life in the City of Alexandria by having led the creation or redevelopment of something that wouldn't have existed without their involvement or demonstrated substantial and sustained contributions over a significant period. These community leaders have met one or both of these criteria.
2023 Living Legends of Alexandria
David Baker – In addition to an accomplished police career, including serving Alexandria as its Executive Deputy Police Chief for 16 years and Chief of Police for three years, David Baker is passionate about improving the lives of Alexandria's seniors, working as a volunteer and board member at both Goodwin House and Senior Services of Alexandria.
Nelson Greene, Jr. – Operating frequently behind the scenes, Nelson Greene, Jr., ensured that Alexandria's underserved were represented through his advocacy, active memberships in many committee organizations, and as a school board member. Nelson Greene, Jr. died in March 2022 and will be honored posthumously.*
Dana Lawhorne – A native Alexandrian, Sheriff Dana Lawhorne retired after 43 years of local law enforcement service. Lawhorne became Sheriff in 2006 after serving for 27 years as an Alexandria police officer and detective. His specific accomplishments and advocacy for those in need have made indelible changes in the community before and after retirement.
Carolyn B. Lewis – An educator and influencer in Alexandria since the early 60s, Carolyn B. Lewis has been instrumental in encouraging the younger generations to step up to succeed and pay it forward. She is one of the original founders of Project Discovery Alexandria, an organization with 20 chapters in seven states providing guidance to students pursuing higher education.
Patty and Kate Moran – Mother and daughter Patty and Kate Moran have dedicated their lives to the education of Alexandria's children. Both are volunteers and mentors who have contributed in lasting ways to build and promote important events that forever give back to the city.
Gary Oelze – Alexandria is a mecca in the entertainment circle thanks to Gary Oelze's leadership and ownership of  The Birchmere, the music venue he took over in 1966. Over the decades, thousands of notable musicians and other acts performed on his stage. It is estimated that 3 million people have enjoyed diverse entertainment at his famous hall. Gary Oelze passed away in January of this year. He and he will be honored posthumously.*
James Paige – Colonel James Paige co-founded the Concerned Citizens of Alexandria (CCNA) in 2009 and now serves as its Executive Director. CCNA is a nonprofit that has helped increase the high school graduation rate by focusing on educational improvement for underserved and at-risk students.
Redella S. "Del" Pepper – When she announced retirement in 2020, Del Pepper was the oldest and longest-serving member of the Alexandria City Council, serving 36 years from 1985 until the beginning of 2022. She was vice mayor (most votes among council members) from 1996 to 1997 and 2003 to 2009.
John "Jack" Sullivan – Jack has given more than 40 years to advocacy, involvement, and education about historic preservation, sewer outfalls, civic activism, and the environment, proving that one voice can make a difference. Increased parkland and a much cleaner river are two of his enduring legacies.
Charles Wilson – A retired U.S. Air Force officer, Charles Wilson dedicated his time to Alexandria's youth by serving in numerous advocacy positions and making a difference in countless situations, including serving as vice chairman of the school board.
William Vosbeck – Through his work as a renowned architect, William Vosbeck helped re-design Alexandria through its urban renewal program, helping create one of the most historic cities in the country. William Vosbeck passed away in 2021 and will be honored posthumously.*
All of the honorees have too many accomplishments to list here. Each will be interviewed for more extensive biographies, which will be shared via publication in The Zebra Press and the Alexandria Gazette Packet. Each honoree will also sit for an official portrait to be displayed at City Hall. The portraits and bios will be digitally archived in the Office of Historic Alexandria.
The 2023 Legends will be formally recognized and introduced to the public at the 14th Annual Meet the Legends reception in the fall at the George Washington Masonic National Memorial.
The mission of Living Legends of Alexandria, a 501(c)(3) nonprofit, is to identify, honor, and chronicle the lives of individuals who have made significant contributions to improve the quality of life in Alexandria.
For information, to volunteer, become a sponsor or nominate a future Legend, visit www.AlexandriaLegends.org or contact [email protected]
*The honorees posthumously inducted into the 2023 Legends of Alexandria were nominated before passing.
TRENDING: Alexandria Library Loaning Laptops with Free Internet Access