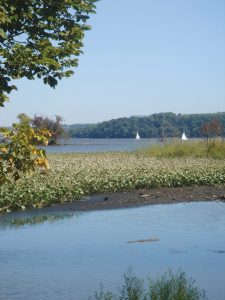 By Glenda C. Booth
Few of the harried commuters in the 50,000 to 70,000 vehicles that whiz up and down the George Washington Memorial Parkway (GWMP) realize that they are zipping through a national park. After all, there's no "Old Faithful" spewing gases or buffalo grazing in a broad valley. No one plans a trip to visit it and there's no visitor center, but the parkway is in fact a unique national park.
You might see – twelve-spotted skimmer dragonflies fighting for territory or big bluet dragonflies mating, as a jet approaches National Airport; ospreys, gripping a fish in their claws, en route to their nestlings as a Blackhawk helicopter passes overhead; great egrets and great blue herons feeding in mudflats under Interstate I-95; red-eared slider turtles sunning on a log; a nodding pogonia, a rare forest plant, or if you really look, Stygobromous tenuis potomacus, the Potomac groundwater amphipod; and wild rice billowing in the breeze.
The Parkway's planners envisioned a unique roadway to preserve and enhance the Potomac River valley, to keep both banks of the river in public ownership and to pay tribute to the nation's first President, George Washington by creating a grand gateway to the first president's home, Mount Vernon, at the road's southern terminus. Lt. Col. Peter Hains, who conducted the first land survey told Congress that the parkway should "have the character of a monumental structure, such as would comport with the dignity of this great nation . . . and the grandeur of character of the man to whom it is dedicated. . . It should be such a work as no American need feel ashamed of."
Today, unlike the multi-laned, superhighway gray slabs of pavement with views of a tractor trailer in the next lane, the parkway is in fact a people-oriented national park, with many sweeping vistas, rich history and places to visit.
The parkway's landscapes were designed to be a series of constantly changing "rooms" that would provide variety, emphasize important vistas and highlight special places. Listed on the National Register of Historic Places, the park defies categorization, compared to other national parks especially. It is a slow-speed thoroughfare, an array of units combining the natural, historic and recreational sites with over 7,000 acres of parkland along its 40 miles mostly paralleling the Potomac River shoreline. There are 25 possible stops in Virginia, Maryland and Washington, D. C., many associated with the first president.
The first part built, the pre-World War II Mount Vernon Memorial Parkway, was designed for vehicles going 35 to 45 miles per hour (mph). Its successor, the George Washington Memorial Parkway, anticipated speeds of 59 to 60 mph. Post-war sections have longer curves and continuous safety medians.
When the first segment from Arlington Memorial Bridge to Mount Vernon was dedicated in 1932, the parkway was hailed as "America's Most Modern Motorway. Its builder, the U.S. Department of Agriculture's Bureau of Public Roads demonstrated principles of modern highway design like overpasses, cloverleaves, limited access, widely-spaced exits and entrances and tree-lined rights-of-way. The road became a model all over the world. Its plans were used to develop Germany's Autobahn.
In 2005, the Virginia section was designated by the U.S. Department of Transportation as an "All-American road" in the National Scenic Byways program because of its multiple intrinsic qualities that are nationally significant and one-of-a-kind features.
Today the George Washington Memorial Parkway has two sections: the 25-mile Virginia section from Mount Vernon estate north to I-495 and the seven-mile Clara Barton Parkway in Maryland.
Local "Pork"?
The Parkway was built in stages from 1929 to 1970.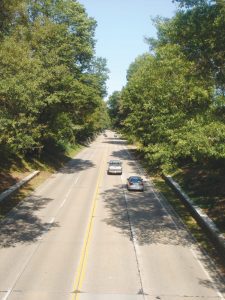 The genesis is attributed to a group of local business people called the Mount Vernon Avenue Association, who in the 1880s hatched a grandiose plan for a national road from Washington to Mount Vernon. They envisioned each state having a section with grand monuments honoring its most famous and noble people, an American Appian Way. The road project idea was set aside in the 1890s when between 1892 and 1896 the Washington, Alexandria and Mount Vernon Electric Railway was built through Alexandria to Mount Vernon Estate, a popular trolley that transported Mount Vernon visitors, locals and even farm goods.
In the early 1900s, as tourists in automobiles mushroomed and getting to Mount Vernon was six-hour slog via what some called an "unsightly" U.S. 1, Congress decided to celebrate the bicentennial of George Washington's birth by authorizing the construction of the Mount Vernon Memorial Parkway, connecting sites associated with the first president and offering recreational opportunities. The first segment was completed on time in 1932.
Stop-and-go construction, hampered by funding disputes, proceeded for the next 40 years. By the late 1940s, the road went as far north as Spout Run. The northern part of the parkway was mostly built in the 1950s and 1960s. A major driver was deciding to locate the Civilian Intelligence Agency's (CIA) headquarters at Langley. President Eisenhower formally opened this part of the road to traffic at a 1959 ribbon cutting. By 1962, the parkway reached the new Beltway to facilitate traffic to the new Dulles Airport.
While crawling through Congress over the years, the parkway plan survived a number of hurdles. The Potomac River Corporation unsuccessfully pushed a hydroelectric dam above Great Falls and Chain Bridge. In what may be an early example of those infamous Congressional "earmarks," some members of Congress decried the parkway proposal as "pork." Threatening to defund it, Michigan Representative Louis Cramton labeled it "the most extravagant piece of road building that this country has ever known." New York's Congressman Fiorello LaGuardia complained that it was "sordid material," really a local project deceptively disguised as a memorial: "O Memorial, how many appropriations have been passed in thy name?" he thundered. The bill passed.
Originally, the parkway was supposed to go from Mount Vernon to just above Great Falls in Virginia and in Maryland, from Fort Washington to just above Great Falls. The Maryland part was never built, some say because there was no equivalent to the CIA and Dulles Airport driving it on the Maryland side. A Maryland section, today called the Clara Barton Parkway, did survive. Congress rejected suggestions that this road be called the Martha Washington Parkway and chose Clara Barton, to honor the founder of the Red Cross because her former home adjoins the parkway at Glen Echo.
In Harmony with Nature
Parkway designers sought to integrate the road's design with the undulating terrain following natural contours and winding in gentle curves, featuring natural areas and scenic vistas of the Potomac River. Forested areas contrast with grassy areas. Over 250,000 trees, shrubs and vines have been planted over the years.
Sections between the 14th and Memorial Bridges were left open for sweeping views of the city across the river. Signs and lights are minimized; billboards are barred.
Most of the bridges consist of reinforced concrete faced with hand-laid, rough-cut stone for a natural look.
Today, the parkway's natural areas are especially rich in biodiversity for an urban park. Identified so far are 245 species of birds, 25 mammals, 21 reptiles, 16 amphibians, 76 butterflies, 722 moths, 38 arachnids, 91 bees, 37 dragonflies and damselflies, 28 caddisflies, 466 beetles, 61 fish, 43 mollusks and 11 crustaceans.
The natural areas of the parkway are home to 81 species of plants and animals listed in Virginia or Maryland as rare, threatened or endangered. In 1995, Stygobromus sp. 15, a species of crustacean new to science was found in a freshwater seep. Another may have been found in Fort Hunt Park more recently. Turkey Run Park is the only known Virginia site for the Spectacled Nettle Moth (Abrostol urentis).
A 2011 plant survey by Brent Steury, National Park Service Natural Resources Program Manager of GWMP, documented 298 new vascular plants in Virginia, Maryland and Washington, D.C., bringing the known plants of the parkway to 1,313 taxa, representing 1,284 species. Seventeen may be the first records for Virginia and 15 of the newly-documented taxa are listed by Virginia as rare in the state, bringing the total to 37 state-rare plants found within GWMP. Despite management efforts, non-native plants comprise a disturbing 29 percent of the total.
Sites Known and Unknown
This national park offers some intriguing visitor experiences, some well-known and some tucked away. Examples:
Glen Echo Park, site of a 1921 restored Dentzel carousel and a 7,500 square foot dance hall where bands like the Dorsey Brothers, Woody Herman and Bill Haley and the Comets once performed.
The Potomac Gorge, a 15-mile, rugged river corridor, home to many rare plants, diverse habitats, one of NPS's most significant natural areas. Nearby lie the remains of the former town of Matildaville.
Great Falls, a series of cataracts and falls, one of the most ecologically significant natural areas in the entire U. S. national park system. The Great Falls were extolled by one preservationist, quoting Lord Bryce who in 1913 wrote, "No European city has so noble a cataract in its vicinity as the Great Falls of the Potomac. . . ."
Turkey Run Park, which puts on a spring wildflower show when Eastern Bluebells (Mertensia virginica) carpet acres.
The 17-acre Lyndon B. Johnson grove with hundreds of white pines and dogwood trees, azaleas and rhododendrons and a 43-ton granite monolith quarried 35 miles from former President Johnson's Texas ranch.
Jones Point, one of the few east coast lighthouses surviving today on the spot George Washington chose as the southern tip of the new 10-mile square U.S. capital district.
Tributes to war heroes, like the Iwo Jima Memorial, the Robert E. Lee Arlington House, Arlington Cemetery and the "Waves and Gulls" memorial, a tribute to the U.S. Navy and Marine Corps unique in the area because it is made of cast aluminum instead of stone.
A forest as natural as one could be in the metropolitan area at Theodore Roosevelt Island, formerly Analostan Island. Planners intended it to be "similar in character to the natural primeval forests which once covered this and others of the Potomac islands." In the center is a memorial to Roosevelt.
The Dyke Marsh Wildlife Preserve, a rare, 480-acre, freshwater, tidal, narrow-leaved cattail wetland, where marsh wrens that weave globular nests are barely hanging on.
The ruins of the J. W. Kruettner mansion near the Morningside Road turnoff. Kruettner was president of the American Portland Cement Association and the house may have been the first concrete house in the U.S. Visible today are the wine cellar, some walls, a balustrade and pieces of columns.
Near the Kreuttner ruins, waterlogged posts and beams protrude from the river, likely abandoned barges from the mid-20th century dredging that hauled away around half of Dyke Marsh or perhaps remains from the old Dodson Marina operated by a squatter known as Cig. Dodson whom NPS evicted.
Fort Hunt Park, with the Battery Commander's Tower today looking much as it did when completed in 1902, built for the Spanish-American War and the nation's coastal defense system. The commander, who could see down the Potomac River from the top, coordinated all the firing from the still-standing batteries.
Fort Hunt also was a top-secret World War II camp known only as P.O. Box 1142 and used for interrogating over 3,500 German prisoners of war.
And many romantic overlooks.
For more information, visit
www.nps.gov/gwmp