Obituaries
OBITUARY: Chet Avery, 85, Advocate for People With Disabilities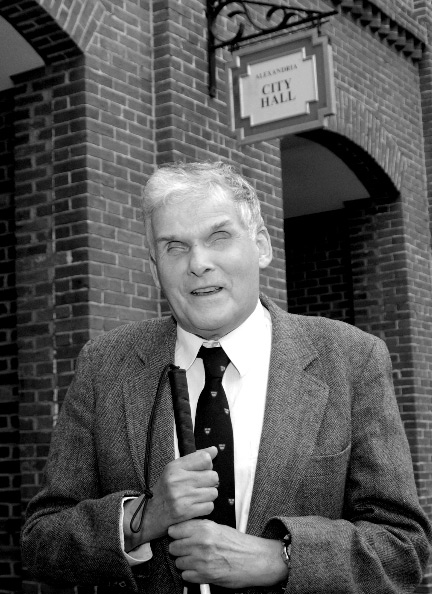 ALEXANDRIA, VA – Chet Avery, a longtime resident of Alexandria and an advocate for people with disabilities, passed away at the age of 85 on Thursday, Sept. 8. ALXnow first reported the news this morning (Sept. 14).
Originally from Sanford, Maine, he was born on August 1, 1937, to Chester Avery Sr. and his wife Gladys. At 16 years old, Mr. Avery experienced vision loss in his left eye as the result of a detached retina. At 17, he had the same problem with his right eye, causing complete blindness. Shortly thereafter, he learned to use a guide cane, the device that would help him with his mobility and independence for the rest of his life.
Mr. Avery came to Alexandria in 1967 with his devoted wife Sabra, The couple met at Harvard University in 1961, marrying the following year. While at Harvard, Mr. Avery earned a bachelor's in history and master's in counseling and education.
During his career in the federal government, he was responsible for ensuring the proper implementation of Section 504 of the Rehabilitation Act of 1973, a precursor to the Americans with Disabilities Act of 1990. He retired from the U.S. Department of Education in 1996. While maintaining his career, the genial Avery served on the Alexandria Human Rights Commission for three decades. He also became the first member of the Special Education Advisory Committee for Alexandria Schools, appointed by former mayor Bill Euille, who met Avery in 1974 as a school board member.
Chosen as a Living Legend of Alexandria (LLA) in 2010, Avery's profile says he was "dedicated to extending accessibility to all persons."
Thanks to his tireless efforts, the city has curb cuts, a central library on one level with access to Talking Books, accessible voting machines and courtrooms, and a human rights ordinance that protects people with disabilities.
Mr. Avery was honored publicly for his work as an advocate on a number of occasions. In 2008 he was named Alexandrian of the Year. In 1998 he received John Duty Collins Outstanding Advocate for Persons with Disabilities Award. Interestingly, he is a member of his high school's hall of fame.
Always thinking of ways to open doors for others with disabilities, of helping to develop the first descriptive videos for theaters, Mr. Avery told the writer of his LLA profile: "When blind people attend plays, they have no idea what's happening on stage with regard to scenery and activity. In 1981, Arena Stage began offering descriptive videos for visually handicapped individuals during plays. Since then, that has expanded and many venues have descriptive videos, including movie theaters."
He is survived by his wife, son Bradford B. Avery, and two grandchildren.
No funeral or memorial service is planned.
DASH Bus Service Free Alternative During Months-Long Yellow Line Metro Closure